Beware Bielsa's Bilbao
By Sam Sheringham
BBC Sport
Last updated on .From the section Football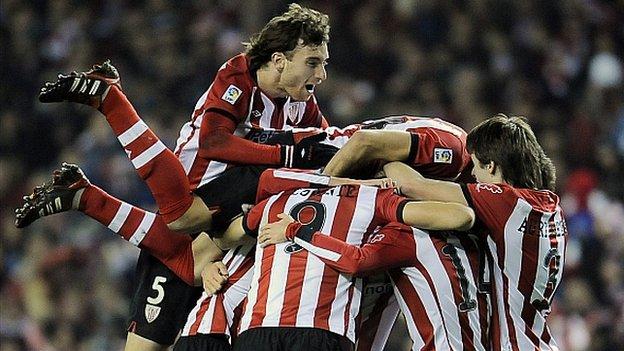 When Howard Kendall arrived in Bilbao to manage Athletic in 1987, he was naturally eager to replicate the methods which had brought him two league titles, an FA Cup and a European Cup Winners' Cup at Everton.
"The first thing I said to the club's general manager was that I didn't want anybody at my training ground while I'm working," Kendall recalls. "But I was politely informed that this simply would not be possible.
"There must have been about 500 supporters every day who would come just to watch the training.
"Then they would go down the road and have a vino and a game of cards and talk about what they had just seen. In fact, I really grew to love them."
Kendall's mistake had been to underestimate the strength of the bond between the club and its fiercely proud supporters, who await Manchester United in the last 16 of the Europa League.
Renowned for its policy of fielding only Basque players, or players groomed through its youth system, the club embodies a city which prides itself on its working-class values and distinctiveness from the rest of Spain.
In his two full seasons at the club, Kendall finished fourth and seventh, endearing himself to the fans with his disciplined approach, but ultimately failing to deliver the silverware they were craving.
Fast forward 23 years and 15 managers, and the club's loyal fans are starting to believe that their trophy drought, stretching back to 1984, may be about to end.
Managed by veteran Argentine coach Marcelo Bielsa, and powered by a golden crop of youngsters, Athletic are fifth in the league - one point behind the Champions League places - and through to a meeting with Barcelona in the Copa Del Rey final, as well as the tie with United on Thursday.
Bielsa's skill has been to marry the club's traditionally direct and physical style with the more technical and tactically innovative approach which has defined him throughout a career that has taken in clubs in Argentina, Mexico and Spain - as well as the Argentinian and Chilean national teams.
"Bielsa was a bit of an odd choice for Bilbao - I think a lot of people thought there would be a clash of philosophies," says Basque-based football writer Phil Ball, author of Morbo: the Story of Spanish Football.
"Bielsa is all about zonal play, movement and short passing. He is very much a methodical manager who studies videos of his own team and other teams.
"But he is a pretty clever guy and I don't think he would ever impose everything he believes in on a traditional place like Bilbao.
"It took about four of five games for things to gel, and there were murmurs of discontent at first, but it has all gone very well since then."
So well, in fact, that after watching his side scrape a 2-2 draw at Bilbao thanks to a stoppage-time equaliser from Lionel Messi in November, Barca coach Pep Guardiola said he had never played against a team so intense.
Bielsa's Bilbao play a relentless pressing game, looking to win the ball high up the field and release the talents of attacking midfielders Ander Herrera, Susaeta and Iker Muniain, a 19-year-old winger who made his debut for the Spanish national team in last week's 5-0 thrashing of Venezuela.
The trio operate around the fulcrum provided by giant Spain striker Fernando Llorente, who has scored 21 goals in 34 games this season.
The on-field leadership is provided by 23-year-old Javi Martinez, a midfield general coveted by Real Madrid, who has occasionally been deployed at centre-half this season to help bolster the team's occasionally porous defence.
Even if United can secure an advantage from the first leg at Old Trafford, they will then have to contend with Athletic's 12th man - the San Mames stadium, a bubbling cauldron of a ground known as "the Cathedral", where the stands virtually spill on to the pitch.
"Sammy Lee played there in a European game for Liverpool and he told me it was the best football stadium he had ever played in," says Kendall. "It only holds 40,000 but the atmosphere is something else, absolutely incredible.
"I think United will find it very difficult. I think they need a decent lead from the first leg because it is such a tough place to go."
As intimidating as the stadium may be for visiting players, any United fans anticipating a hostile reception from the locals should think again.
According to Phil Ball the role of British shipyard workers, and Basque students educated at UK universities, in the founding of Athletic Bilbao means supporters of English clubs are always well received.
"I went to see a game they played against Newcastle in Europe and the attitude towards the English fans was astonishing," says Ball.
"The Newcastle fans didn't understand it. They thought they were being tempted into some sort of trap and were going to get beaten up. They couldn't understand why people were buying them drinks and treating them so nicely."
One man who won't be surprised by that story is Kendall, who still looks back nostalgically on his Basque adventure.
"People ask me: 'Why did you leave Everton when they were champions?' But I don't regret it for a minute because Bilbao was a fantastic experience," says Kendall, who has been invited to dine with the squad in Manchester on Wednesday.
"It was totally different to everything I have ever experienced. I really, really enjoyed it."