Shrewsbury's Marvin Morgan targets promotion over goals
Last updated on .From the section Football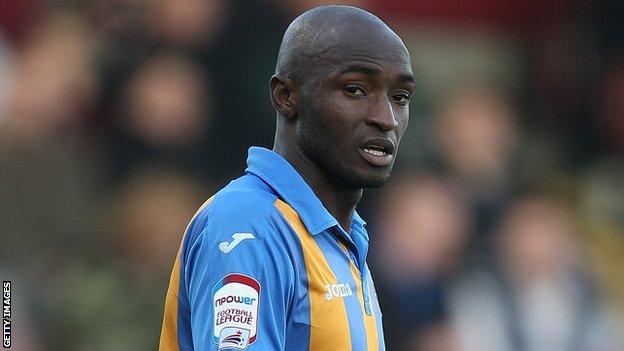 Shrewsbury striker Marvin Morgan says he does not care who finishes the season as the club's top scorer provided the team wins promotion.
The former Aldershot forward, 28, has 10 goals this term, two behind James Collins, who currently leads the way.
Morgan said: "I'd prefer it if James Collins took it because he's a young player and I remember when I was 21 I wanted to score and be top goalscorer."
"I'm getting a bit wiser and older now and it's all changing.
Morgan admited he sets his own personal targets but told BBC Radio Shropshire that personal accolades mean far less to him than collective success.
"I like to get my double figures, then get my 15 so 16 plus goals and I'll be happy.
"I'm happy for James, he's flying and doing well and has a great future ahead of him.
"As a striker you've got to be greedy and you've got to be hungry but if we get promoted I don't care who comes top goalscorer."