David Keyte aims to cut Hereford United coaching staff
Last updated on .From the section Football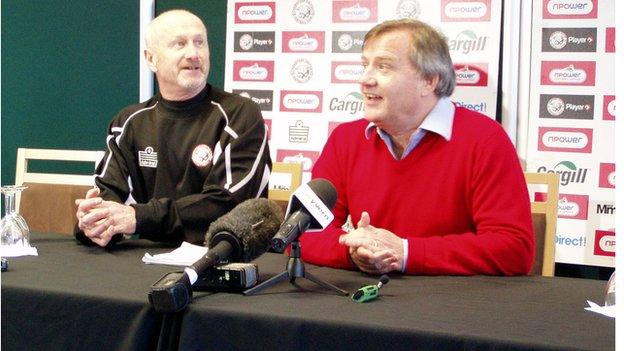 Chairman David Keyte says Hereford United's five-strong coaching staff is not sustainable in the long term.
"Why would we sweep them all out at this point when we're actually in a position where we need all hands on the pump?" he said.
"But I can say categorically there won't be five in the management team indefinitely," he added.
United have appointed former Bournemouth and Doncaster Rovers assistant manager Richard O'Kelly as successor to Jamie Pitman as manager, with Pitman being kept on as first-team coach.
The backroom staff of Russell Hoult, Richard Sneekes and director of football Gary Peters all keep their jobs and Keyte acknowledged this imposes a financial burden on the club.
"Because of the timescales left this season it seemed foolish to sweep the board," he said.
"We discussed all possible options but it seemed as though it would be tough to expect someone to walk in cold with only 12 matches remaining.
"The phrase: 'Don't throw the baby out with the bathwater' came to mind."
Keyte paid tribute to the contribution made by Pitman during his tenure as manager and said he will have learned a lot from the experience.
The United chairman now believes the job probably came too soon for Pitman, but remains confident the club's former physhiotherapist will get another chance in management.
"There is no question about his football passion and his coaching ability," he said.
"I have no doubt that in time Jamie Pitman will come back as a football manager.
"But he probably needs to serve some time as a coach or assistant manager in order to get that experience."