Former manager Walter Smith saddened by Rangers' plight
Last updated on .From the section Football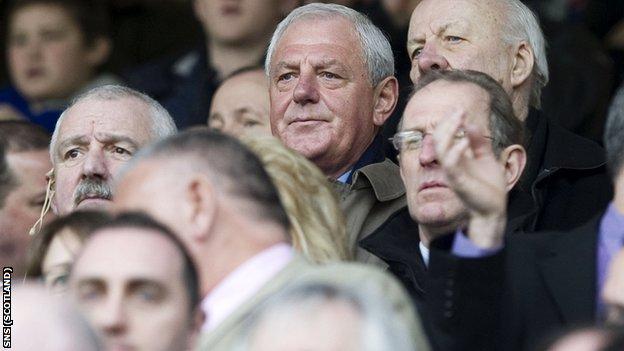 Former Rangers manager Walter Smith admits the club's current predicament has surpassed his worst fears.
"I don't think we ever thought it was going to be this bad or as bad as it seems at the present moment," Smith told BBC Scotland.
"I wish somebody could bring some clarity to the situation."
And Smith added: "If we're believing what we read in the media at the moment it could get far worse.
"It seems that something different comes up every day you pick up a newspaper.
"It doesn't matter whether you've been a supporter, player, manager or a director, everybody's greatly disappointed in what's happening just now.
"After leaving last year and seeing colleagues I worked directly with, especially Alistair, getting an opportunity to take over and then seeing the circumstances that are unfolding in front of him in his first year; it's really, really disappointing on all fronts.
"He [McCoist] would have been looking forward to a far more stable situation than it's turning out to be."
Gregg Wylde was the first player to leave the club on a voluntary redundancy basis and Smith regards the player he gave a first-team debut to as having made a "great gesture".
But, while Smith hopes for minimal squad cuts, he fears redundancies may be much harder on the non-playing staff.
"This is a tragic situation as far as they're concerned," said Smith.
"Most of the lads that are involved in the footballing side of things, when they play for Rangers, know they'll be good enough to gain employment elsewhere if the worst comes to the worst.
"But the staff that work outwith the footballing staff are maybe not that fortunate, especially in today's climate.
"I would certainly hope that, if there are redundancies, that they are restricted to the footballing side but I've got to stress I just hope that there are very few indeed even in the footballing side."
McCoist served as Smith's assistant for four-and-a-half years during the latter's second managerial term at Ibrox and the duo won eight trophies, including three Scottish Premier League titles during that period, the most recent of which coming last May.
"While I can speak to him [McCoist], I'm more experienced, fortunately speaking," added Smith.
"I had two close calls at Everton with administration but each time we managed to keep the club going so Alistair's sitting in a position that I've never been in.
"It's very difficult to give someone advice about a situation that you've never been in yourself.
"I now just go as a fan and I just hope that we reach a conclusion to this as quickly as we possibly can and that Rangers can get back to a bit of stability.
"I know it's going to be maybe a long road back to where we were even just a matter of nine months ago, it might take them quite a long while to get back to that situation but I just hope that they can come out it.
"I'm certain that they will do, Rangers are too big a club not to come out and come back and reach a good level again so I'm hopeful that that is sooner rather than a lot later."