Paul Murray targets Rangers takeover bid
Last updated on .From the section Football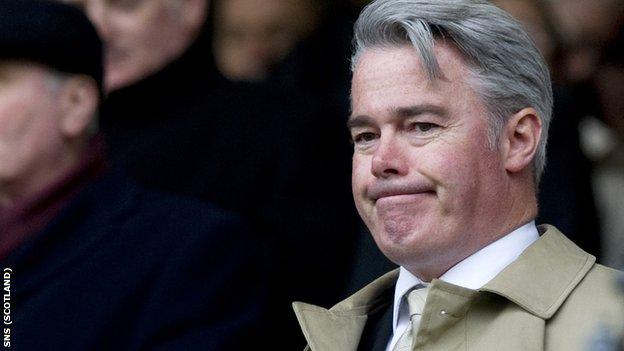 Former Rangers director Paul Murray intends to make a conditional offer to the club's administrators to buy Rangers before a 16 March deadline.
He told BBC Scotland that liquidation would be a last resort due to the footballing implications.
Rangers' administrators Duff and Phelps are in the process of implementing job and wage cuts to ease operating costs.
Murray met the club's administrators two weeks ago to discuss his proposal for a consortium to take control at Ibrox, after first indicating his interest in a bid on 14 February - the day Rangers went into administration.
His meeting with Duff and Phelps was the first face-to-face contact held with the firm, but has stated he would not work with current owner Craig Whyte on any proposed takeover.
The administrators have publicly stated that any formal bid for the club would have to be made to them by no later than 16 March.
Rangers have until 31 March to return accounts or the club will not be granted a licence to compete in European competition next season.
Along with his then fellow-Ibrox board member King, Murray launched an unsuccessful bid to stave off Whyte's takeover in May 2011.
The duo aimed to raise £25m to invest in the club, while continuing to service the club's debt which stood at £18m, but their bid was rejected by the Ibrox board.
In a statement on Wednesday, King said: "I do not believe that there is a reasonable prospect that the company can come out of administration" and "that liquidation is inevitable" - a view Murray does not share.
Rangers are awaiting the verdict of a high-profile tax case, surrounding payments made to employee benefit trusts from 2001 to 2010.