Port Vale boss Micky Adams humbled by fans' generosity
Last updated on .From the section Football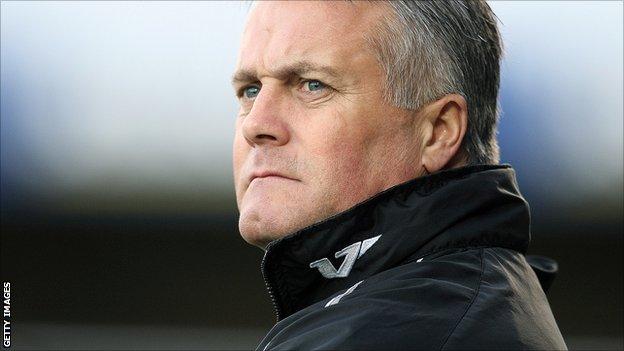 Port Vale boss Micky Adams has revealed that fans have been donating hundreds of pounds to the cause as .
"One lady, and I'm sure she doesn't want me to name her, gave me a cheque for £300 tonight to buy some petrol for the lads," Adams told BBC Radio Stoke.
"This is a working-class area and they don't want their football club to die."
He added: "I've had another letter with a cheque for £100 in it. What a magnificent gesture that is, to throw that money into the players' pool."
Stoke-on-Trent City Council announced on Tuesday that they would be putting Vale into administration.
Vale have also been hit by a winding-up petition by HM Revenue & Customs over an unpaid tax bill and are currently under a transfer embargo.
Bob Young from Stoke-on-Trent firm Begbies Traynor is expected to be confirmed as Port Vale's administrator at a hearing in Birmingham on Friday.
"We're not to know what the administrator's remit is, until I've actually sat down and spoke with him," said Adams.
"Will staff redundancies happen? Will players need to be sold to reduce the wage bill? Will I have a job? There are lots of unanswered questions that need to be clarified.
"Until that happens, we'll go out there and try our best for the football club and for ourselves.
"I'm not worried about Micky Adams. It's all about the players and all the good people at this football club who, at the moment, are struggling financially.
"I'm not Mystic Meg, I can't see into the future and I don't know what's around the corner. All I can do is promise people that I'll try my best to keep the players as motivated as I can."
Hours after the announcement, Vale extended their unbeaten run to eight matches with a 3-0 home win against Burton Albion.
However, the imminent 10-point deduction means their chances of promotion are all but over.
"I'm especially proud of them tonight," added the former Sheffield United boss.
"I wouldn't say the announcement knocked the stuffing out of them, but there were a lot of disappointed people. We're all disappointed.
"We understand the reasons why we're going into administration but it makes it harder when we're on such a good run, we're confident, we're playing some good football and we've got a real chance of getting promoted.
"It's a real kick in the teeth for us, in terms of the football side of things, but we've got to get on with it."