Kieran Mahon injury ends 'worst week'
Last updated on .From the section Football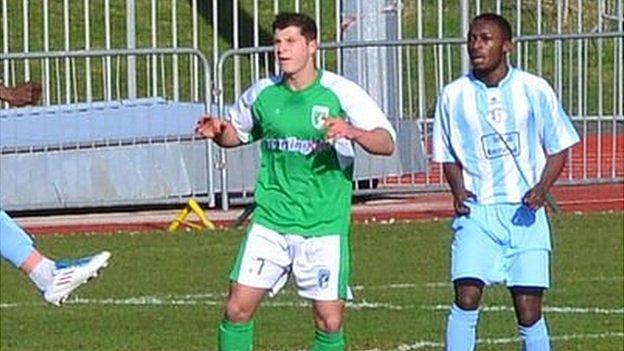 Guernsey FC midfielder Kieran Mahon has broken his ankle and is likely to miss the rest of the season.
Mahon was injured playing for his Priaulx League side North as they by St Martin's on Tuesday night.
Mahon has been at the centre of controversy after he played while suspended in Guernsey FC's 2-0 win over CB Hounslow on Saturday.
"Worst week of my life that's me done with this," Mahon tweeted on Tuesday.
His appearance for Guernsey FC while suspended has led to a as both side blames the other for the oversight.
The 21-year-old was given a two-match suspension by the Guernsey FA after being sent off for two bookings in a match for North for the second time this season.
The ban covered two North matches, but meant he was also ineligible to play for Guernsey FC during that period of suspension.
Mahon's injury comes as he was included in Kevin Graham's squad for the Guernsey island team.
They are due to travel to Alderney for the Muratti semi-final on 17 March.