Karl Robinson shrugs off MK Dons' supporters concerns
Last updated on .From the section Football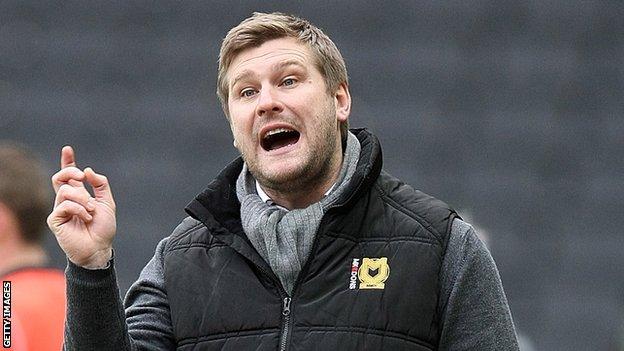 MK Dons boss Karl Robinson has urged supporters to "watch the rest of the teams" in League One before passing judgement on their own side.
But Robinson told BBC Three Counties Radio: "Booing's part of the industry.
"If they think that's a bad performance go and watch the rest of the teams in this league because they'll see what bad performances really are."
Dons striker Dean Bowditch missed a penalty in a game that saw both sides go down to 10 men.
The result keeps MK fifth, six points adrift of an automatic promotion spot, but comes off the back of a four-match unbeaten run.
And Robinson insists he is not fazed by jeers from the Milton Keynes faithful.
"It doesn't bother me at all," he said.
"I don't think any fan can come here and think the players didn't give their all.
"There's certain times when they've needed to get behind us a little bit more. But our fans have been magnificent."
Meanwhile, Robinson has issued a stern warning to midfielder Stephen Gleeson following his sending off after appearing to kick out at Yeovil's Gavin Williams.
The Dons boss has already been forced to reprimand defender Gary MacKenzie for headbutting an opponent earlier in the season.
"I've had a chat with Stephen Gleeson for a good 30 minutes," he said.
"He'll come back bigger and stronger. Internally he's dealt with, he knows that.
"If he learns from it we've got a heck of a player coming back in four games time. If he doesn't he knows where his future will lie."