Rangers will not participate in European competition next season
Last updated on .From the section Football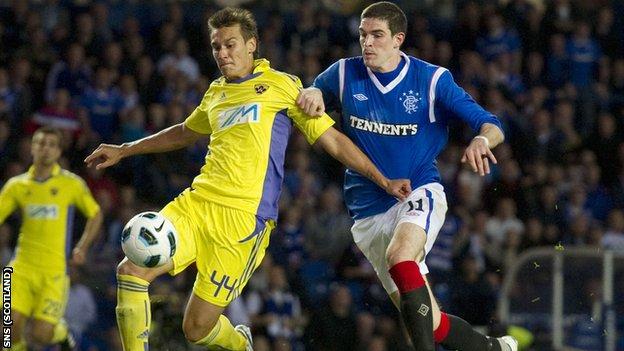 Rangers' administrator has conceded that the club are unable to meet Uefa's 31 March accounts deadline and will not play in Europe next season.
Duff & Phelps said owner Craig Whyte's view that Rangers would exit administration on time was optimistic.
Paul Clark blamed the decision on being unable to sign off accounts under Uefa criteria, a failure to pay taxes and not agreeing a deal with creditors.
He remains confident that the club will continue to exist and play at Ibrox.
In a day of conflicting statements from the Ibrox club, past directors and the current owner, the club's administrator said the four main problems with meeting Uefa's deadline lay in the stewardship of the Rangers prior to going into administration.
The four reasons were broadly given by Duff & Phelps as:
The likelihood of being able to emerge successfully from administration before the deadline, as indicated by Whyte was, at best optimistic given the financial situation at the club.

The company accounts cannot be signed off by auditors in a manner that would meet the criteria required by the footballing authorities as the club would have to satisfy a going concern test confirming how it will continue to be funded until the end of next season. Given that the administrator does not know who will be the owner of the club by 31 March, this cannot be reasonably guaranteed.

Under Uefa regulations, Rangers must have paid or settled all tax debts outstanding at 31 December 2011, which are estimated to be at least £5m - another guarantee the administrator cannot fulfil.

The club must have paid or compromised all of its outstanding creditors prior to the deadline of 31 March, which is also unlikely.
The statement continues: "As administrators, we will make every effort to seek dispensation from the footballing authorities given the extraordinary circumstances in which the club has been placed.
"There has, perhaps inevitably, been speculation about Rangers facing liquidation. As we have stated previously, we remain very confident that Rangers will not cease to exist and the team will continue to play at Ibrox.
"If a Company Voluntary Arrangement is not possible for any particular reason, any buyer of the club and its assets would complete that purchase through a sale by the administrators, allowing the club to continue to operate with the old company then being placed into liquidation prior to dissolution.
"We are, however, doing our best to ensure the company trades viably during administration and this will require a rigorous cost-cutting programme. Our preferred option remains to reach a point where a Company Voluntary Arrangement is reached and the club can emerge from administration as a viable business within its existing corporate shell.
"As stated, there is a possibility that if a new buyer is identified a financial case may be made to sell the business and assets of the old company, but that is not our preferred approach at this time."
Earlier on Wednesday, Rangers non-executive director Dave King released a statement saying that liquidation was "inevitable" at the club - a view not shared by current owner Craig Whyte or former club director Paul Murray.
Murray said in a statement that he intends to make a conditional offer to the administrators to buy Rangers before the 16 March deadline.
The administrators have previously publicly stated that any formal bid for the club would have to be made to them by no later than 16 March.
King also said in his statement that former owner Sir David Murray had no knowledge that proof of funds supplied by Whyte to purchase the club in May 2011 was secured by season ticket sales via the company Ticketus.
"We are aware of the statement from Mr King," added Clark. "We note his comments regarding the Ticketus arrangements.
"But, as this issue is subject to ongoing discussion and examination, it would be inappropriate for us to comment further."
Rangers' last match in European competition was a 3-2 aggregate defeat against Maribor on 25 August in a Europa League qualifer at Ibrox.