Cheltenham chairman plans Whaddon Road redevelopment
Last updated on .From the section Football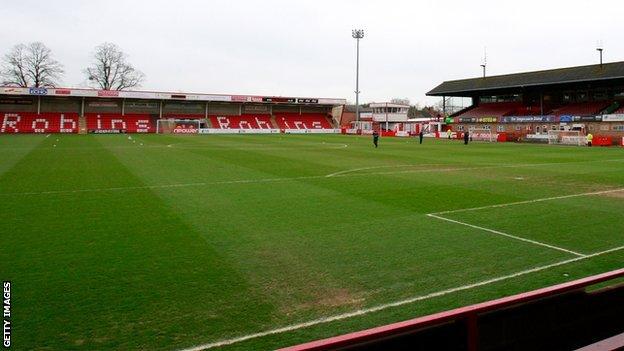 Cheltenham chairman Paul Baker has revealed plans to redevelop their Whaddon Road ground.
"I think the will is there; I've always wanted to finish the jigsaw and finish the project. That would be this stand," Baker told BBC Radio Gloucestershire.
"It can be really exciting both for the sponsors and for the community."
The club decided against a long-term strategy to relocate to the town's racecourse at Prestbury Park at the end of last year due to "general economic uncertainty", but Baker is confident that the new plans are more realistic.
"We wanted to work out how much the new stand would cost and how much money we could generate. The funding gap at the racecourse was significant, but here it is much smaller," Baker continued.
"We've all been charged with one or two things to look at and we'll meet again in two or three weeks' time.
"It's far more likely than the move to the racecourse. There are some parcels of land that could enable us to make quite an exciting project and build quite a prestigious main stand for this football club."
Any plans are still in the early stages, and Baker admits that there is a lot of work ahead.
"I would love to look at a three-year time scale, I think a lot depends on the economy and whether things can pick up. If we spend the next six to nine months drawing up plans, securing planning permission, making sure the funding gap can be sorted out and then maybe a one or two-year build, then anything inside three years would be tremendous."
He is confident that any plan could eventually fund itself, and he put forward a number of strategies to help generate extra income.
"We need to look at alternative revenue streams. We do that, but I don't think we do as much as we can.
"We might be able to put in a stand for 3,000 seats which would give us better viewing facilities, more boxes, possibly the option to have more conferences and dinners there which we can't do now. It's very exciting.
"On top of that we could put an extra floor in and have three floors rather than two. That could generate additional office rental income, perhaps from office use or a fitness centre. We're looking for potential partners who might come in with us," Baker concluded.