Colchester United boss John Ward cools play-off talk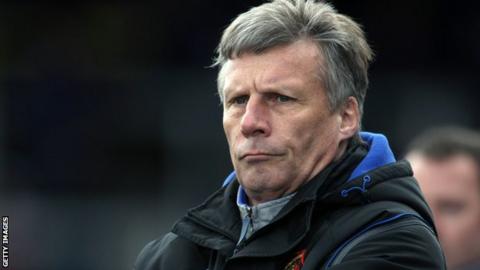 Colchester United boss John Ward has played down his side's chances of making a surge for a play-off place.
The U's are six points shy of sixth-placed Notts County after Tuesday's 2-0 win at League One leaders Charlton.
"We'll just see where it takes us. I think I'd be stupid to start shouting about it," Ward told BBC Essex.
"We're a good group of people who are very honest and the supporters are seeing that right the way through the football club."
Colchester are now 10th after back-to-back wins over Preston and the Addicks.
They have four victories from their last seven outings but about to start a run of games against rivals Wycombe and top-six contenders Sheffield United, Huddersfield and Stevenage.
"I read out the fixture list the other day and you start sweating a little bit when you see big names on it," Ward added.
"It's really about preparing for the next one. I won't get into those sorts of stories [about the play-offs].
"I'm more interested in both ends of the league and making sure we're picking up points."
However midfielder Anthony Wordsworth, who scored a superb opener at The Valley, was more openly confident on Colchester's prospects of closing the gap on the top six.
"I don't see why not," he said. "You look back on the points we've dropped in the past and it's a bit frustrating.
"Six points is two games. So it's definitely do-able."