Fifa should probe Sepp Blatter's re-election, says Council of Europe
Last updated on .From the section Football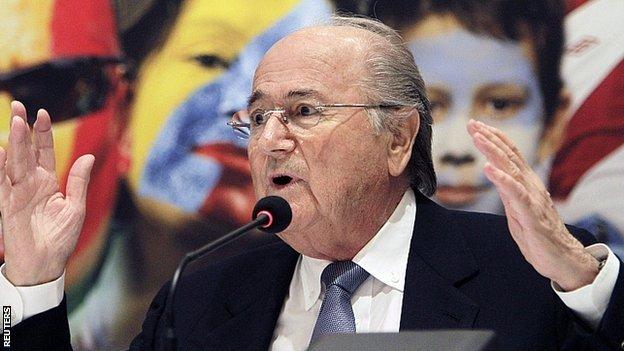 Fifa should investigate whether Sepp Blatter unfairly exploited his position when he was re-elected unopposed as president, the Council of Europe says.
Blatter was re-elected in June 2011 after rival Mohamed Bin Hammam withdrew after he was charged with bribery - and in July was banned for life.
Football Association chairman David Bernstein appealed unsuccessfully for the election to be postponed.
But the Council believes the election process should now be scrutinised.
The Council's draft resolution stated that Fifa should open an internal investigation into the candidates to find out if they "exploited their institutional positions to obtain unfair advantages for themselves or for potential voters".
The Council, the watchdog body which oversees the European Court of Human Rights, has also called for clubs such as Manchester City to be prohibited by Uefa from being sponsored by companies closely associated with their owners.
A report by the Council's culture, science, education and media committee describes the £400m partnership deal between City and Etihad airline as an "improper transaction".