Ghana FA delays Stevanovic decision until next week
Last updated on .From the section Football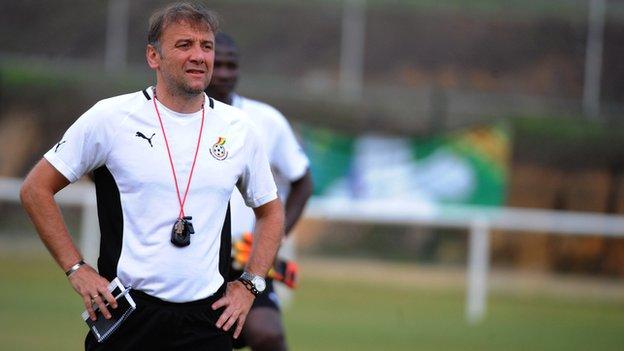 Ghana's Football Association (GFA) says it has deferred "the final decision" on the future of coach Goran Stevanovic until next week.
The Executive Committee met on Thursday where the discussion centred on whether the Serb should continue his post.
The GFA says it will meet with the Black Stars boss next week, after which a final decision will be announced.
A decision had initially been expected on Wednesday but this was delayed by 24 hours to allow the GFA to meet again.
"We have decided to call an emergency Executive Committee meeting to address some outstanding issues," GFA president Kwesi Nyantakyi was quoted as saying on Wednesday.
"We want to make sure that when a decision is taken, it is in the best interest of the country. We want every blade of grass covered," Nyantakyi told the GFA's official website.
"We are sorry for the delay but it is necessary for the best decision to be taken," added Nyantakyi, whose body has sought the opinions of many stakeholders in the past month.
The coach has come under intense pressure since his side failed to win the 2012 Africa Cup of Nations earlier this year.
Heavily fancied before the tournament, the Black Stars Ghana lost 1-0 to eventual champions Zambia in the Nations Cup semi-final - before being beaten by Mali in the third-place play-off match.
On 22 February, the GFA met to analyse the team's performance in Equatorial Guinea and Gabon - saying afterwards it would study the details of Stevanovic's contract before deciding whether to keep him or not.
The 45-year-old's current deal expires in January 2013, the same month as next year's Nations Cup will be held.