Arsenal's Wojciech Szczesny aims to oust Spurs into Europa League
Last updated on .From the section Football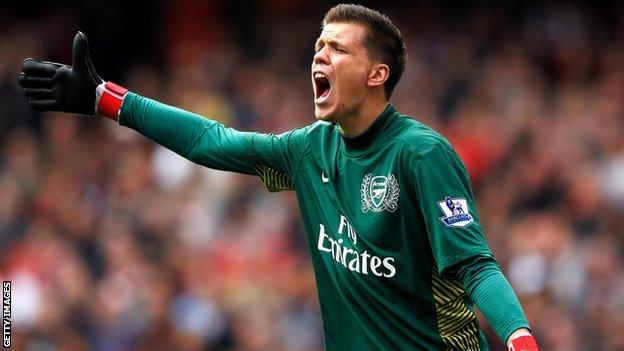 Arsenal keeper Wojciech Szczesny says it would be "fantastic" if rivals Tottenham continue their recent form and finish the season in fifth, thereby missing out on the Champions League.
"We are four points behind the other club," explained Szczesny.
"Hopefully Chelsea can challenge them and I would be really pleased to see them in the Europa League next season."
Szczesny wants Arsenal, who are four points behind their neighbours, to close the gap to third-placed Tottenham.
"I would not settle right now for fourth place," he added.
"The momentum is with us. Hopefully [Tottenham]... are looking over their shoulders."
The Pole believes his side's recent good form will make a difference in the final weeks of the domestic season, as the Gunners chase a top-four position and an opportunity to qualify for the 2012-13 Champions League.
"We won two fantastic games against Liverpooland Tottenham and we won a great game against Milan.
"I think we have sent a message to the rest of the teams in the league that we can beat anyone in the country."
Szczesny, who has competed in his first full Champions League campaign, praised his side's 3-0 victory over AC Milan in the Champions League, despite the Italian side knocking out the Gunners 4-3 on aggregate.
"That tie was a great experience for our players," he said.
"For some of us it is our first season in the Champions League and I'm sure that we will use that experience next year in the competition to help us go a little bit further, maybe even win it."