Rangers hold fresh takeover talks to prevent redundancies
Last updated on .From the section Football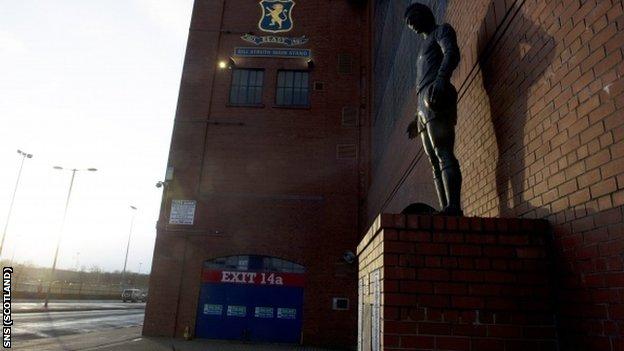 Prospective new owners are holding meetings with Rangers' administrator as it seeks to prevent widespread redundancies at the Scottish champions.
Duff and Phelps has delayed a decision on player redundancies until Friday while it attempts to speed up a sale.
That follows another day of failing to agree wage cuts with the playing staff.
Without a buyer "we will have to either secure cost-cuts with the consent of the players or make some quite serious and deep redundancies", it warns.
Duff & Phelps fears the "severe cost-cutting" would deter interested parties.
"Ultimately the aim is to find new, strong owners to take the club forward with a financial base, so we are now looking at other strategies," joint administrator David Whitehouse told Rangers' website after issuing a statement saying he was "accelerating the sale of Rangers Football Club".
"In the next 48 hours or so, we are approaching and meeting with those parties who have already expressed an interest in acquiring the club to understand their timetable and to try to accelerate what would be a normal timetable for this sort of transaction.
"We have a meeting this evening and we have a series of meetings tomorrow and we will have to conclude our strategy in that regard during the course of Friday.
"In light of the outcome of those discussions, we can then form a view as to whether we can continue to operate the club within its existing cost base.
"If we do form that view, that would have to be over a very short period of time because the company is burning cash at a significant rate."
The BBC had been told that the club's biggest stars were being asked to take wage cuts of 75%, middle earners 50% and the lower paid members of the squad 25%.
As the club strives to make monthly savings of £1m, some players have agreed reduced terms to stay - but with incentives.
These include free transfers in the summer or being allowed to leave for reasonable offers.
Wingers Gregg Wylde and Mervan Celik agreed on Tuesday to leave the club voluntarily, but BBC Scotland believes that seven or eight players had not yet agreed to deals being offered by the administrator.
"The club is in a perilous financial situation and that should not be underestimated," said Whitehouse, pointing out that talks had not ended with the players.
"Regrettably, we have been unable to agree cost-cutting measures with the playing staff on terms that will preserve value in the business.
"We understand the players' position as the scale of wage cuts required to achieve these savings without job losses were very substantial indeed.
"In view of this, we are faced with a situation of making redundancies within the playing staff on such a scale that would materially erode the value of the playing squad.
"They are working together to see if they re-address some of the barriers that were put in place yesterday to achieve the cost-cuts which would have enabled us to complete the season's fixtures and enable us to complete a sale or more orderly transition for the business."
Former Rangers director Paul Murray had already stated his intention to table a conditional offer for the club by 16 March, while two other parties are thought to have expressed an interest.
"No-one should be in any doubt that, in the absence of sufficient cost-cutting measures or receipt of substantial unplanned income, the club will not be able to fulfil its fixtures throughout the remainder of the season," said Whitehouse.
"As a result, we are expediting the sale process and over the next few days we will be holding discussions with prospective purchasers who have declared their interest. The manager, Ally McCoist, will play an integral part in these discussions."
Whitehouse said that a company voluntary agreement - one formed with creditors - could still be used to bring the club out of administration and was preferable to liquidation and forming a new company.
However, he insisted that a liquidated Rangers could still continue to play on.
"We have to look at the time constraint and if it is possible to conclude a transaction within a very short timetable, simply because we can't deliver the cost-cuts necessary to keep the fabric of the business in place, then we would also have to look at selling into a newco scenario," added Whitehouse.
"That brings with it risks in terms of the level of European activity in the coming years and also sanctions from domestic football which would need to be subject to negotiation.
"If we were to look to a very early sale of the business, that is probably a more likely scenario.
"What we don't want to do is mix the terminology here and start to portray liquidation as a process which creates the cessation of the business.
"The liquidation will wind up a business following the sale of the business activities into a newco.
"So in any scenario we would still envisage that Rangers Football Club could play football and operate as a football team."