David de Gea says criticism has helped him at Manchester United
Last updated on .From the section Football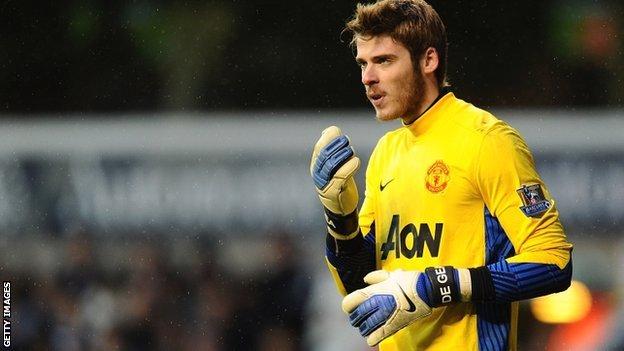 David de Gea has revealed the criticism he endured in his early days at Manchester United has inspired him to prove his critics wrong.
"The criticism I received only served to make me a stronger person," he said.
"The time I spent on the bench helped me to reflect and think. It encouraged me to keep fighting and work."
De Gea faces Spanish opposition for the first time since his £18m move from Atletico Madrid on Thursday when United host Athletic Bilbao in the Europa League.
And the goalkeeper is focused on maintaining his recent good form, which has kept him in the side ahead of Anders Lindegaard.
"The leagues are not too dissimilar in their style but English football is a little bit more physical and maybe a bit more aggressive," he said.
"The challenges you face up to are tougher and referees let play go on more here than they do in Spain.
"The important thing is not to let yourself get down because you can turn it around. Through hard work, I have waited for my chance and grabbed it."
De Gea was left out for four consecutive matches after a mistake in United's New Year's Eve defeat by Blackburn. He returned for their FA Cup loss at Liverpool but made a stunning injury-time save at Stamford Bridge from Juan Mata to stave off defeat and propel United onto their current excellent run.
"Fortunately now I am showing some good form," he added. "I hope this can continue right the way through until the end of the campaign."