Ally McCoist - No split among Rangers players over wage cuts
Last updated on .From the section Football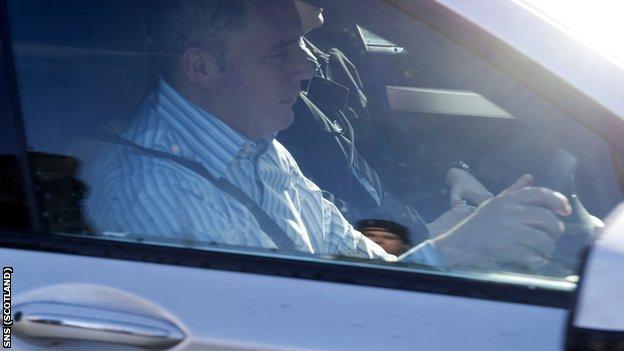 Rangers manager Ally McCoist is angered by suggestions that his squad is split on the subject of wage cuts being demanded by the club's administrator.
The administrator is trying to speed talks with prospective buyers after failing to find agreement with players.
But McCoist told the Scottish champions' website: "I've got to tell you there is no split camp at all.
"It would annoy me, or in fact anger me for anybody to suggest that is the case."
About seven or eight players had not agreed personal contractual details relating to cuts of up to 75% on Tuesday night, when the likes of Steven Whittaker, Steven Davis and Steven Naismith were locked in negotiations, and no breakthrough emerged after further talks.
That prompted administrator Duff and Phelps to warn that Rangers would not finish the season unless they achieved a quick sale or made severe cost-cutting measures.
"Everybody has the club's best interests at heart and there are absolutely no personal agendas within the playing staff or any other staff," said McCoist.
"We all want what is best for the football club and that is what we are all still attempting to achieve.
"There has been a lot of hard work already. Nobody should underestimate the amount that has gone in in the last few days and that will absolutely continue in the search for the positive result we all hope we can get.
"Nobody should underestimate the sacrifice that the players have been asked to make.
"It is to their eternal credit that they have discussed it and gone through it and in a lot of the cases there have been agreements.
"It's still not dead and buried and to a man everybody is behind us and wants to take this club forward.
"All the players, and I mean all the players, and indeed all the staff can reassure everybody and every Rangers fan that they are singing from the same hymn sheet."
Midfielders Mervan Celik and Gregg Wylde this week had offers to leave the club accepted, while Australia international Matt McKay arranged a move to South Korean club Busan I'Park earlier in the administration process.
PFA Scotland is hopeful described stories of certain players refusing to take cuts as "wide of the mark".
"From the start, the players were willing to compromise on the proviso that their sacrifice saved jobs throughout the club," chief executive Fraser Wishart said in a statement.
"That has been a negotiating position during this entire process.
"The senior players have kept a solidarity within the dressing-room allied to a deep care for those employed elsewhere within the company.
"This unity has assisted with the long discussions in recent days with the administrators to find a solution acceptable to all parties.
"The players feel that we are not far from a resolution that will see the broad agreement reached last night implemented and every player individually satisfied.
"This would see no redundancies and make the cuts required for the administrators to be able to continue running the club whilst sourcing prospective buyers."
Joint administrator David Whitehouse also said there was still hope of a deal while hinting that they would be unable to accept players still under contract to leave for nothing in the summer in exchange for a reduction in wages.
"Amongst the squad, there was a commitment made to reduce monthly salary intake, in many cases up to 75%," he told Rangers' website. "These were waivers, not deferrals.
"But there were a number of situations where, as a condition of those waivers, other requirements were put in place which in our opinion, having spent the best part of this morning talking to interested parties and other stakeholders, would materially impact on our ability to achieve a sale of the business.
"Those conditions, in the wider good of the club, I don't think could be met.
"We have met those players again today and they are reconsidering their position.
"We would hope we may be able to reach a resolution, but we can't rely on that, so we have to look at other options."