Mario Balotelli fined week's wages by Manchester City
Last updated on .From the section Football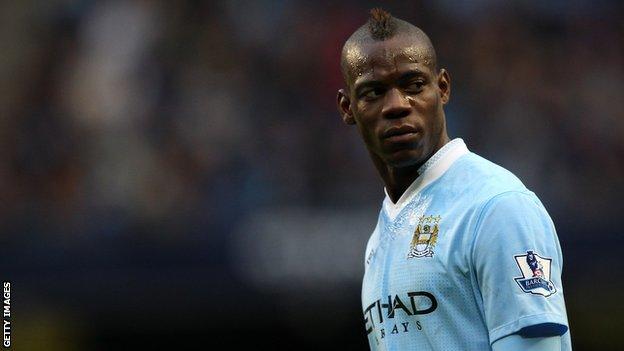 Manchester City boss Roberto Mancini has confirmed Mario Balotelli has been fined a week's wages, believed to be around £120,000.
In an interview with Italian newspaper Gazzetta dello Sport, Balotelli accepted he was wrong to go to a strip club because it upset his girlfriend.
"That was my first mistake. The second was to go two days before a game," added the 21-year-old Italy forward.
Mancini said: "I spoke with Mario and gave him a fine of one week's wages for what he did.
"This is normal because every player should have good behaviour before the game."
When asked if Balotelli had accepted the fine, Mancini said: "Yes."
It is the second time that Balotelli, who scored in the Premier League leaders' 2-0 defeat of the Trotters at the weekend, has broken a curfew this season, and he has also been involved in a number of other high-profile incidents since arriving at City in 2010.
He has been sent off three times, was unable to continue after suffering an allergy to the grass in Kiev, threw a dart at a reserve team player and escaped injury after a firework was let off in his house.