Portsmouth to receive around £800,000 from Football League
Last updated on .From the section Football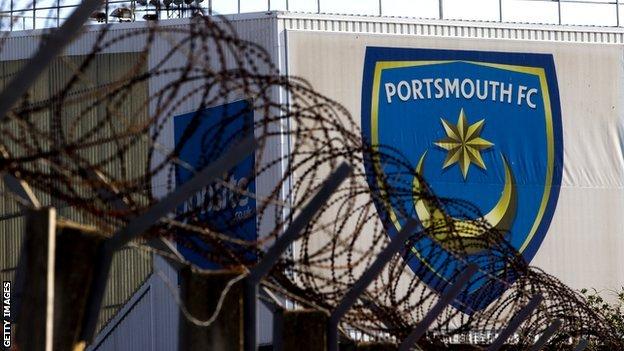 Portsmouth's administrators have announced that the club may well see out the rest of the season after reaching an agreement to receive £800,000 from the Football League.
The financially stricken club are bottom of the Championship and had feared liquidation.
"This will go a long way towards plugging the club's financial gap," said administrator Trevor Birch.
Portsmouth's final game of the 2011-12 campaign is scheduled for 28 April.
In mid-February the south coast outfit entered administration for the second time in three years, suffering a 10-point penalty as a result and dropping towards the foot of the league.
Key players have been loaned out as a cost-cutting measure, including captain Liam Lawrence, who moved to fellow Championship side Cardiff City. Birch had admitted the club might not have enough money to see out the season.
Now Portsmouth are set to receive around £800,000 in the form of four monthly payments between now and the end of the campaign, after a period of discussion with the Football League.
"The league has confirmed that we will receive the four outstanding payments for the current season," Birch commented.
"Thanks to this and other initiatives, which may include further player loans, we should be able to get to the end of the season."
However, speaking on behalf of all the administrators, Birch sounded a note of caution.
"I wish to emphasise that we are not out of the woods yet," he warned.
"This initial money buys the club time but it does not solve the club's problems and it does not guarantee the club's survival.
"The overarching objective is to find a buyer before the money runs out."
Manager Michael Appleton has stated his intention to stay at Fratton Park despite being forced to work under tough financial restrictions and suffering a 1-0 defeat against Reading on Tuesday.
"I try to show the players that I am willing to fight to the end," he told BBC Radio Solent.
"If we have a group of players who are prepared to do the same then we have a great chance."
Talks remain ongoing regarding a possible friendly fixture between Portsmouth and fellow financial strugglers, Scottish Premier League side Rangers.
Both parties are exploring costs and logistics to see if a match can be staged between the sides, who are 450 miles apart.