Roberto Mancini keen on Arsenal star Robin van Persie
Last updated on .From the section Football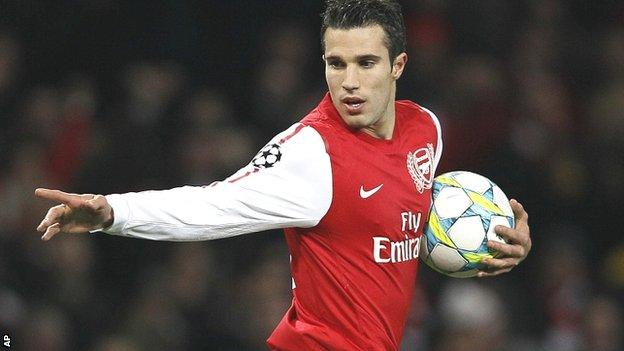 Manchester City boss Roberto Mancini has confirmed his interest in Arsenal's Robin van Persie, but believes the striker will remain with the Gunners.
The 28-year-old, who has scored 32 goals this season, is out of contract in 2013 and has put talks over a new deal on hold until the summer.
"We are interested in good players," Mancini said. "I think all the good teams are interested in Van Persie.
"He is a fantastic striker but I think he will remain with Arsenal."
City signed Samir Nasri from Arsenal last summer and have also recruited Gael Clichy,Kolo Toure and Emmanuel Adebayor from the Gunners in recent years.
Van Persie joined Arsenal from Feyenoord in 2004 and, after a number of injury-plagued seasons, he has been prolific since succeeding Cesc Fabregas as captain in August.
"I think if there is a good player who wants to leave a club, then we are interested," Mancini explained.
"I think Van Persie at this moment is one of the best strikers in Europe with [Lionel] Messi, [Cristiano] Ronaldo, Sergio [Aguero] and Mario [Balotelli].
"But if this player wants to stay, we don't have any problem. In my opinion, Van Persie will stay at Arsenal."
Arsenal are set to finish without a trophy for the seventh consecutive season after falling out of contention for all domestic and European accolades.
Currently fourth in the Premier League, they face a battle to qualify for next season's Champions League, a competition they have contested every year since 1998.
Having lost Fabregas and Nasri last summer, Van Persie departing would be a huge blow to their hopes of vying for top honours.
The Dutchman has scored 127 goals in 266 games for Arsenal including 25 in the Premier League this term.
"I think Robin van Persie will sign a new contract with Arsenal because, if Arsenal lose him, they will have a big problem," Mancini added.
"I think Arsenal will buy good players in the summer.
"Arsenal is a top team. They want to win the next Premier League, so for these reasons I think he will stay."