Scottish FA chief warns Rangers liquidation would be 'a disaster'
Last updated on .From the section Football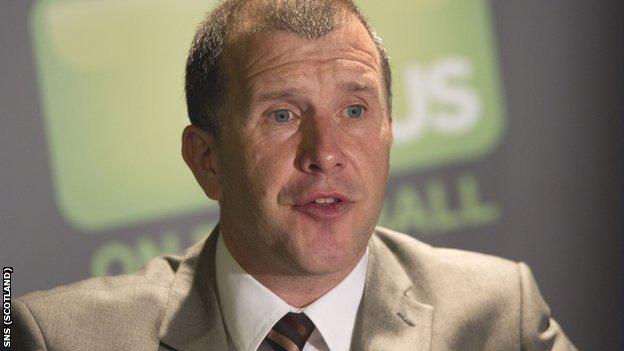 Scottish Football Association chief executive Stewart Regan has described the prospect of stricken Rangers being liquidated as "a disaster".
The SFA board is meeting at Hampden to discuss Lord Nimmo Smith's inquiry into Rangers' recent business dealings.
And the club's administrators have warned they must cut costs by Friday.
He said: "They're sending out a message that if they are not able to reach an agreement then the club is facing liquidation. That would be a disaster."
Thursday morning's emergency meeting will hear the findings of Lord Nimmo Smith's two-week investigation into the circumstances surrounding Craig Whyte's takeover of the club from Sir David Murray for £1 last May.
It is one of several investigations that are currently taking place.
The SFA is also looking into whether Whyte satisfies its "fit and proper person" criteria; the Scottish Premier League is assessing allegations that the club operated a dual contract policy that hid some payments made to players; and Strathclyde Police are making inquiries into the legality of matters surrounding the takeover.
Regan told the BBC: "It is a pretty desperate time for Rangers Football Club.
"Having had the club go into administration on 14 February, it would appear that there's a succession of negative pieces of news emerging almost on a daily basis.
"Last night the news that the club is running out of cash and may be unable to fulfil their fixtures is the final piece of news that will send Rangers fans into despair."
On Wednesday, administrators Duff & Phelps said that because negotiations with players to curb costs had broken down, their search for a new buyer was so pressing that if one could not be established, they would impose severe redundancy cuts on Friday.
And they said the financial situation was so perilous that the club could struggle to fulfil its SPL fixtures until the end of the season.
Asked if he was sure that Rangers would, in fact, be able to play their remaining matches, Regan said: "I don't think you can say with total confidence that that will happen.
"All we can do is work with the administrators. They are dealing with a massive issue.
"They are trying to put fires out on a number of different fronts.
"There are a number of investigations going on, they are trying to sell the club, take costs out of the business and there is also the threat of not being able to compete in Europe next season.
"It is a really, really difficult for the club and I'm sure the administrators will be working round the clock to come up with a solution.
"They've got to take out around £1m a month for the club to have enough cash to survive the rest of the season.
"I am sure they will be trying to get the players and their agents to come to a sensible agreement."