Is Barcelona's Lionel Messi the greatest-ever footballer?
Last updated on .From the section Football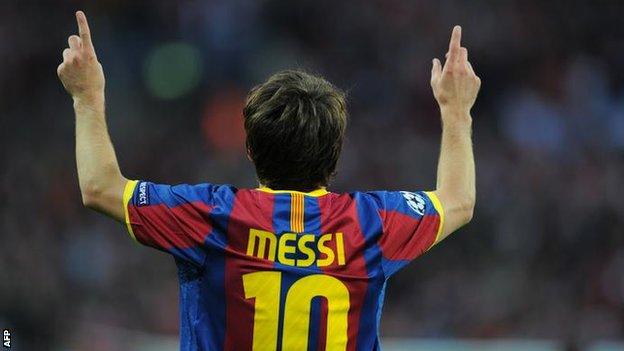 MESSI IN NUMBERS
Wednesday's game against Bayer Leverkusen was the first time Messi scored five goals in a game in his career. It is also the first time a player scored five goals in a Champions League game. He also has one quadruple (v Arsenal), one hat-trick (v Viktoria Plzen) and nine braces in the competition.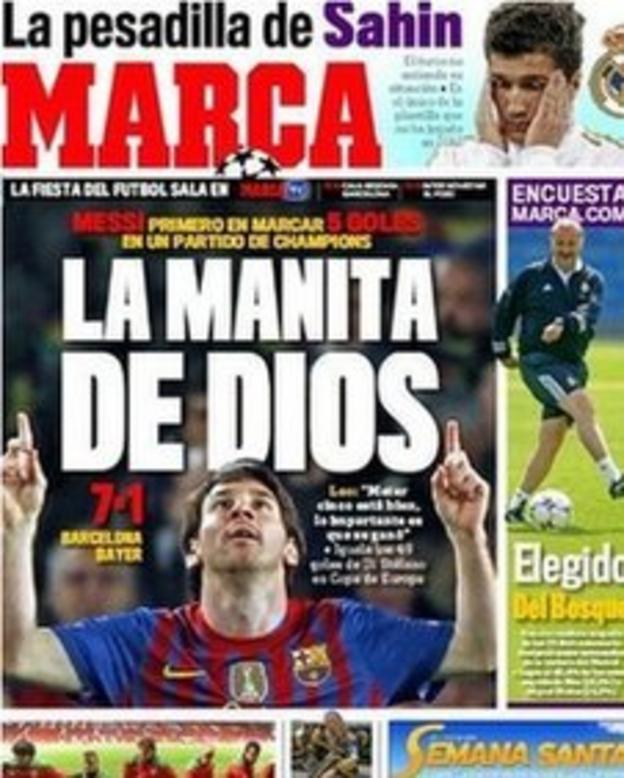 With 49 goals in 64 games, Messi is the fourth top scorer in the history of the Champions League (since 1992-93), behind Raul (71), Ruud van Nistelrooy (56) & Thierry Henry (50).
Messi has scored 12 goals this season in the Champions League, which equals the best total in a Champions League campaign (since 1992-93). The others to reach that tally were Van Nistelrooy (2002-03) & Messi himself (2010-11).
This season, Messi has scored twice as many goals as any other player in the Champions League, ahead of Bayern Munich's Mario Gomez with six.
Since his goal in the 2009 final, Messi has scored 33 goals in 30 Champions League starts. It had been a year since he last scored at the Nou Camp in the competition (3-1 v Arsenal, 8 March 2011).
Messi had seven shots against Leverkusen, six of them on target.
Messi scored his 49th Champions League goal at the age of 24 years, eight months & 13 days old. When reaching the same target, Raul was aged 27 years, four months and 27 days - while Van Nistelrooy and Henry were aged 30 and 31 respectively.
WHAT THEY HAVE SAID ABOUT HIM
"He's the best [ever], there is no other like him. We'll never see a player like him again. The throne belongs to him and only he will decide when he wants to relinquish it." - Barcelona coach Pep Guardiola.
"When Messi has scored 1,283 goals like me, when he's won three World Cups, we'll talk about it." - Pele.
"When you play against such a player, then you always want his shirt." - Bayer Leverkusen player Michal Kadlec, who was criticised by his coach for squabbling with a team-mate over who got to exchange shirts with the Argentine.
"He's going to be one of the best footballers in the history of the sport." - Barcelona team-mate Xavi, after Messi claimed his third Ballon d'Or.
"Do you remember the goal Maradona scored in the World Cup against England when he took on and beat half their team? Well, Leo used to score goals like that almost every game, even when he was only five years old." - David Trevez, president of Grandoli FC, the first club where Messi played competitively.
"He was very small at the time of his discovery, but he was an excellent player already. Many players are in La Masia [Barcelona's training facilities] every year, but I remember Leo as the one who loved football the most." - Barca's former youth director and the man credited with discovering Messi, Josep Colomer.
"The best player in the world. Once he's on the run, Messi is unstoppable." - Arsenal manager Arsene Wenger, following Barca's 4-1 demolition of Arsenal at the Nou Camp in 2010.
"He has everything to be the number one." - Brazil legend Carlos Alberto Torres.
"I believe if he carries on playing like he is he will become the number one in history." - Argentine World Cup winner and former team-mate of Diego Maradona, Ossie Ardiles.
"Since he arrived at Barcelona at such a young age, we saw quickly that he had some very special qualities." - Barcelona academy coach Jose Ramon Alexanco.
"I have seen the player who will inherit my place in Argentinian football and his name is Messi." - Diego Maradona, speaking in 2006
WHO ARE HIS RIVALS FOR THE "GREATEST EVER" TAG?
Pele:
Brazilian Pele won three World Cups - 1958, 1962 and 1970 - and scored 77 goals in 91 appearances for his country. He was jointly awarded Fifa's Player of the Century in 1999 with Diego Maradona. He bagged 1,281 goals in 1,363 games for club and country before retiring in 1977.
Diego Maradona:
Diego Maradona was jointly awarded the honour of Fifa's Player of the Century with Pele and earned 91 caps for his country, scoring 34 goals. Predominantly left-footed, the forward was a World Cup-winning captain in 1986. He retired in 1997, with 292 goals in 583 club and country appearances.
Johan Cruyff:
Dutch winger Johan Cruyff won the Ballon d'Or three times, in 1971, 1973 and 1974 - a record jointly held with Michel Platini, Marco van Basten and Lionel Messi. The Netherlands never lost a match in the 33 games in which he scored. In total for clubs and country he slotted home 324 goals in 568 games before retiring in 1984, but never lifted the World Cup.
Cristiano Ronaldo:
Portugal's captain Cristiano Ronaldo is the most expensive player in football history after moving from Manchester United to Real Madrid for £80m in 2009. Ronaldo, 27, won the Champions League in 2008 and already has 88 caps and 32 goals for his country, as well as 183 goals in 309 club appearances. The European Golden Shoe and Premier League Golden Boot winner is also the highest goalscorer in a season in Real Madrid's history with 53 strikes.
George Best:
Northern Irishman George Best won the European Cup in 1968 with Manchester United, winning the European Footballer of the Year the same year. Best also grabbed two English league titles (1965, 1967). He won 37 caps for Northern Ireland, and scored 214 goals in 616 appearances before retiring in 1983.
Other candidates: Alfredo di Stefano (Argentina, Colombia & Spain), Eusebio (Portugal), Ferenc Puskas (Hungary), Franz Beckenbauer (Germany), Michel Platini (France), Ronaldo (Brazil), Zinedine Zidane (France)