Gary Speed's son Edward picked for Wales Under-16s
Last updated on .From the section Football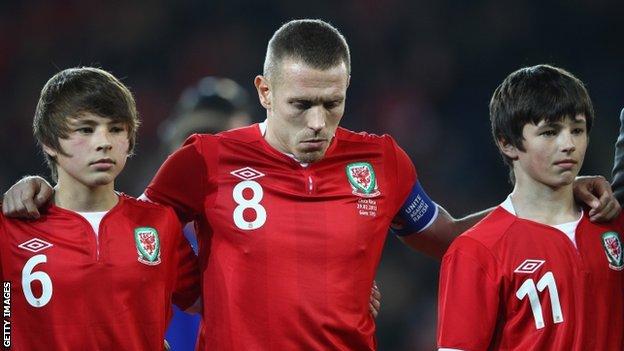 Former Wales manager Gary Speed's son has been called up to the national team's Under-16 squad.
Also in the squad is Ellis Bellamy, son of Wales and Liverpool striker Craig.
Speed's former assistant Osian Roberts, the Under-16 team manager, told BBC Radio Wales that the pair showed "exciting potential".
And of Edward Speed, he added: "He is exactly the same [as his father].
"We had a game before Christmas and he ran his little heart out. He reminds me so much of Gary. Hopefully he'll be an outstanding talent.
"You can't guarantee any player because you are dealing with potential but he does everything absolutely right."
Roberts feels having a famous footballer as a parent could help as well as hinder youngsters, and explained: "You can look at it as something positive because of the background and the support they have had in their upbringing and their development.
"It can also hinder them in terms of the pressure and the expectations put upon them either by their parents, coaches, the clubs or even their peers.
"But in terms of both Ellis and Ed they handle it quite superbly, they are mature young men, they have both got terrific attitudes.
"There is no rule that if your father was an outstanding player it means that you are going to make it, it doesn't work like that. But obviously when you have a father who has been through it themselves it can help."
In February, Edward Speed and brother Tommy joined their mother and other family members at a memorial match for Speed at Cardiff City Stadium.
The boys met the Wales team after the 1-0 defeat by Costa Rica and new manager Chris Coleman said Speed's sons were a "credit" to their late father.