Roger Johnson keeps Wolves captaincy after discipline breach
Last updated on .From the section Football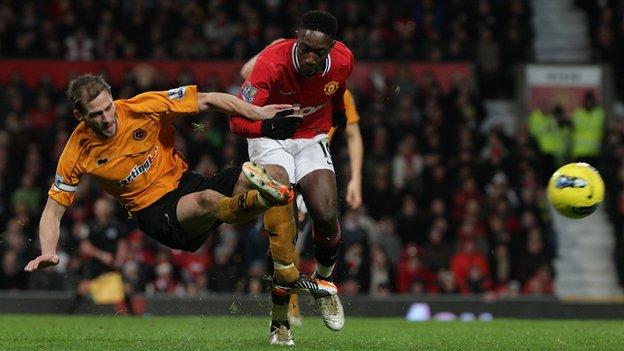 Roger Johnson will retain the Wolves captaincy, although caretaker manager Terry Connor admits the defender had been "unfit to train properly" on Monday morning.
The Wolves boss made the revelation after Johnson apologised, having been disciplined for "conduct in training".
Connor said: "Roger reported for work not fit to train properly.
"I would be disappointed with any player in that situation. I said to him what he did was unacceptable."
Johnson, 28, has been out of favour since Connor took over from sacked Mick McCarthy and was a substitute in Sunday's 5-0 defeat at Fulham.
When asked if Johnson will stay as captain, Connor added: "There are no immediate plans to change anything. He carries on as captain for the foreseeable future.
"Since Monday, Roger has prepared well all week and he will be under consideration for Saturday's game against Blackburn."
Johnson said: "I have apologised to the manager, my team-mates and the club. My conduct and approach to training on Monday was below the high standard the club rightly needs and demands of me, and what I demand of myself."
Wolves released a statement on their website in the aftermath of the incident and had initially declined to give any further details about Johnson's conduct.
Connor said: "I can confirm that Roger was involved in a breach of club discipline on Monday, for which he has apologised and accepted his punishment."
Johnson joined the club from Birmingham last summer following Blues' relegation from the Premier League.