Rangers: Paul Murray's Blue Knights finalise offer to buy club
Last updated on .From the section Football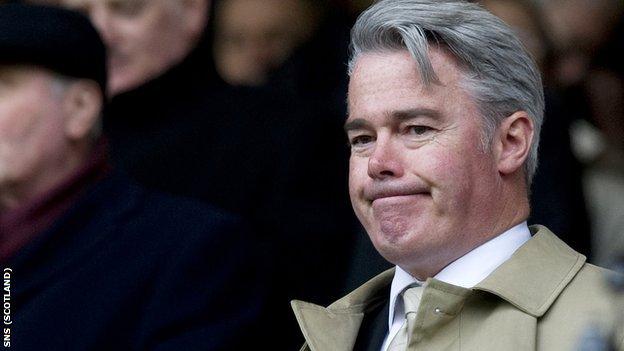 Ex-Rangers director Paul Murray says his "Blue Knights" consortium is finalising an offer to buy the club.
Ticketus, who advanced money to Rangers in return for several seasons' worth of ticket sales, are part of the consortium along with fans' groups.
Murray feels his party "are able to deliver an attractive solution".
On Friday, Rangers' players and management agreed to temporary wage cuts to help the club fulfil its remaining fixtures this season.
Businessman Murray left the Rangers board shortly after Craig Whyte's takeover of the club last May.
And his group says "new and experienced" board members could be appointed in the event of a successful purchase.
The Blue Knights comprises Paul Murray, the Rangers Supporters Assembly, the Rangers Supporters Association, the Rangers Supporters Trust and Ticketus.
Since Rangers went into administration on 14 February, Murray's name has been consistently linked with a fresh takeover bid.
He said: "I believe that the Blue Knights, working in collaboration with the fans and Ticketus, are able to deliver an attractive solution that will see the club emerge from administration with a clear plan for the future that will bring the financial stability that the club needs.
"We firmly believe that a CVA [company voluntary arrangement] is the best way forward and we are working hard to offer a solution that will enable this to happen.
"As the administrators have stated, the alternative route of putting the club into liquidation is much less attractive for creditors, supporters and players, with its capacity to destroy value.
"Under current Uefa rules, a football club is banned from European competition for three years in the event of liquidation. Taking this route would have a significant impact on Rangers's future revenues and the overall financial viability of the club, so it is something we want to avoid."
Rangers's administrators, Duff and Phelps, have already ruled out the possibility of the club playing in European competition next season as audited accounts are unlikely to be signed off by the 31 March deadline.
A deadline of 16 March has been set by Duff and Phelps for parties interested in buying Rangers to come forward.
Ticketus, whose advanced funds were used as part of Whyte's takeover, stated: "We believe that the Blue Knights understand very clearly what needs to be done to stabilise the club, and represent the most attractive long-term solution to Rangers' financial situation.
"We are therefore backing their bid and will be an active partner, contributing to a successful outcome.
"We believe working alongside the Blue Knights and fans' representatives offers the best chance of the club surviving and becoming a viable business."
Earlier, Ticketus had indicated they would be confident of winning any case relating to recovering the money they forwarded as part of Whyte's takeover.
The firm has taken legal advice after Duff and Phelps pursued the release of £3.6m from an account belonging to Whyte.
A High Court judge ordered a trial date to decide who owns the money with Ticketus, HM Revenue and Customs, Merchants Turnaround and the pension fund Gerome contesting ownership of the funds.
HMRC want £2.8m, Merchants Turnaround is seeking £1m and Gerome is claiming £2.9m.
Rangers's joint administrator David Whitehouse emerged from the High Court in London on Thursday pleased that the judge had ordered a further hearing on the club's claim on £3.6m for 30 March.
Whitehouse argued that the money, frozen in his firm's lawyer's account, belongs to Rangers and should be released to ease the club's plight.
Lawyers for the club's administrator told the High Court in London they had expected to find £9.5m in the account.
But they said there was only £3.6m in it and several parties are claiming ownership of the money.