Tim Howard signs new Everton contract until 2016
Last updated on .From the section Football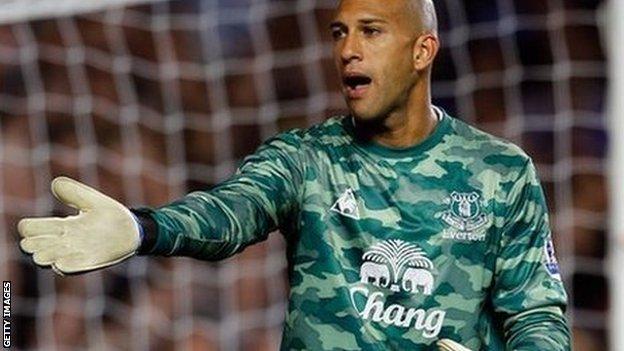 Everton keeper Tim Howard has signed a new deal with the club until 2016.
"I couldn't be happier," he told the club's website. "I've had a smile on my face ever since we finalised the deal."
Howard famously scored his first professional goal during Everton's 2-1 defeat by Bolton on 4 January, when his goal kick was assisted by strong winds.
It was the fourth time a goalkeeper had scored in Premier League history.
Howard signed a permanent deal with Everton in February 2007 and the new contract means he is set to spend a decade at Goodison Park.
"It's a place that is home for me," he added.
"When you have a really good relationship in life and both sides are eager to continue and keep that going, it's a no-brainer.
"This hasn't been a knockdown, drawn-out type of negotiation with meetings or anything like that.
"They were very happy to keep me here and I was very, very happy to stay."