Gambian football set for Fifa showdown
Last updated on .From the section Football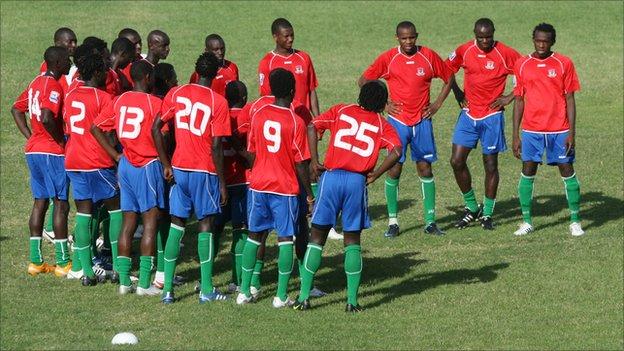 Football's world governing body Fifa is to hold talks with the Gambian government in a bid to resolve the crisis in the game in the country.
Ousted officials of the FA were scheduled to give their version of events to Fifa on Thursday.
A meeting between Fifa and the Gambian Ministry of Youth and Sports will take place in Zurich next week.
"We believe that our action is necessary and relevant," a Ministry of Youth and Sports official said.
Contrary to local reports, The Gambia has not yet been banned by Fifa.
"The Gambia is not suspended," a Fifa spokesperson told BBC Sport.
"Nothing has been brought to the Emergency Committee yet. We are awaiting reports and further discussions."
The world governing body will submit its findings to its Emergency Committee, who will decide which action to take.
Despite Fifa's warning of 'severe sanctions' should the government's decision stand, the ministry has appointed an interim committee to oversee the country's football for the next 12 months.
And the body is refusing to back down as it believes it is on the right path to improving the Gambian game.
"(Our action) is irreversible because sport in general, and football in particular, should be administered in the best interest of Gambians and national developments," the Ministry's Permanent Secretary, Mambanyick Njie, said on Wednesday.
"We will continue to pursue the conversation with Fifa but what must be clear in this country is that the GFA cannot participate in any continental or international competition without the support of the government."
Gambia's government dissolved the elected executive of the GFA last week after the national team lost 2-1 at home to Algeria in a qualifying match for next year's Africa Cup of Nations finals.
Fifa takes a dim view of governments interfering in the running of any association or federation, and has issued bans to countries for such actions in the past.