Newry to appeal against Davidson eligibility decision
Last updated on .From the section Football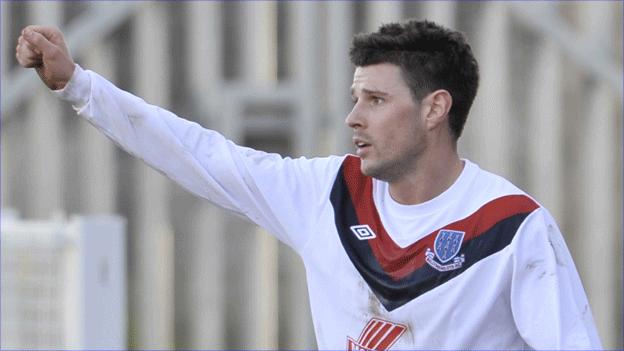 Newry City will appeal against the IFA's decision to dismiss their protest over the eligibility of Ballymena's Alan Davidson in the Irish Cup.
Davidson scored the winner in the 2-1 quarter-final win over Newry, who claimed he was not eligible as he was signed after the cup deadline.
The IFA said legal opinion indicated Davidson had been eligible to play.
"We're extremely disappointed. I expect the club will take this as far as we can," said City boss Pat McGibbon.
"We certainly won't be accepting this decision," he told the News Letter.
Newry had argued that Irish Cup rules stated players had to be signed by 31 January to be eligible.
However, a statement from the association said the Challenge Cup committee believed the cup rules had to be read in parallel with the IFA Premiership Rules and Fifa regulations covering the status and transfer of players.
"It should be noted that Challenge Cup Rule 4 states "all players must be registered by their clubs, in accordance with the appropriate league regulations" and also in line with IFA Article 2 which says "where there is conflict between the statutes of Fifa and Uefa and these Articles (IFA Articles), the statutes of Fifa and Uefa shall prevail."
The IFA also said that because Davidson had been out of contract, he could have been registered up until the end of March.
Davidson's registration with his previous club, Glenavon, was cancelled on 3 January and Ballymena registered him on 28 February.
Ballymena will now take on holders Linfield in the semi-finals on 31 March.