Former Hereford boss Jamie Pitman accepts change was needed
Last updated on .From the section Football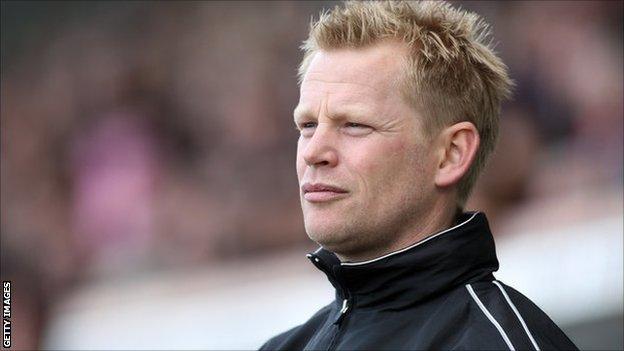 Former Hereford United manager Jamie Pitman says the club were right to replace him with Richard O'Kelly.
Pitman said: "It's been a tough two or three weeks, very emotional and stressful as it's been a very difficult situation for everyone concerned.
"Richard coming in is going to take the club forward and it's a fantastic appointment as far as I am concerned."
Pitman lost his job after 18 months in charge at Edgar Street when the board turned to O'Kelly in the hope he can turn around their fortunes in the last 12 games of the season.
Pitman admitted he had found some parts of the job difficult to handle.
"The confrontation is the hardest bit about it, especially if you are the sort of person who has got a bit of sentiment about them," he said.
"That is the toughest bit of the job and that was something that I learnt - you just have to be honest with the players.
"You have to try to tell them exactly what you are thinking and then they have to live with it," he added.
But Pitman said he is delighted to have the chance to return to the coaching role and feels he can work well with O'Kelly.
He said there had already been a response from the players to the changes the new manager has brought into training sessions.
"The tempo is very high in training and the players have really responded to that," he said.
"That is not to say they were not working hard before but it is just little differences that he has brought in.
"As a team we are hoping that will make all the difference to us to help us get those wins that we really need."