Manchester City hoping for swift Vincent Kompany return
Last updated on .From the section Football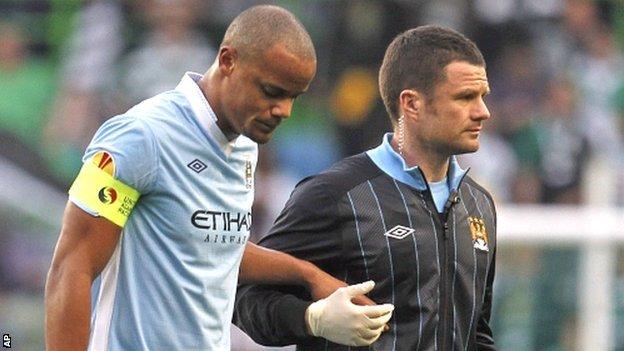 Manchester City hope captain Vincent Kompany will be fit within two weeks after he injured a calf during the 1-0 defeat at Sporting Lisbon.
The central defender limped off after just seven minutes of Thursday's Europa League last-16 first-leg tie at the Jose Alvalade Stadium.
He will miss Sunday's Premier League game at Swansea.
But manager Roberto Mancini said: "I hope he can recover in 10 days, two weeks maximum."
The Italian continued: "When you have a calf [injury], it can be a big problem. We will see how it is in another one or two days."
On a more positive note for City, right-back Micah Richards, who was left out of the squad to rest a minor knock, is expected to play at the Liberty Stadium as they look to protect their two-point lead at the top of the table.
"I didn't take a risk with Micah because Pablo Zabaleta is injured. Micah will play on Sunday," said Mancini.
City will remain in Lisbon to train in a warmer climate for two days before travelling back ahead of Sunday's match in Wales.
Brazilian defender Xandao back-heeled the only goal five minutes into the second half in Portugal, leaving City needing to win at the Etihad Stadium on 15 March to reach the quarter-finals.
"It wasn't a surprise because anything can happen in football, but I don't think we deserved to lose," said Mancini.
"We didn't play very well. But we still have a big chance. I am not worried. We will go through in the Europa League and Sunday will be a different game."
Mancini also dismissed suggestions that City underestimated Sporting, something opposite number Ricardo Sa Pinto suggested was a possibility before the game.
"I don't agree with this," said Mancini. "I think that every game is difficult and different. We try to play good football. Sometimes we win, sometimes we lose."
Sa Pinto said: "I believe Sporting played the perfect game tonight. We did nothing by accident; everything went according to plan.
"It was the maximum performance from my players. We knew we had to be perfect to overcome Manchester City.
"But we also have a good squad and I do believe we can progress to the next stage of this competition, although it will be a difficult game in Manchester."