Rangers' administrator says Craig Whyte will not profit from club
By Alasdair Lamont
BBC Scotland
Last updated on .From the section Football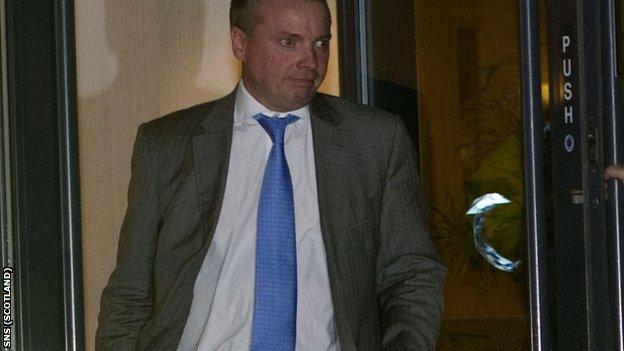 Joint administrator Paul Clark believes Rangers owner Craig Whyte will not profit from the Scottish champions' descent into the financial mire.
Clark told BBC Scotland liquidation would not benefit anyone and, if Rangers exit administration, Whyte would not make any money as a result.
"There is a security that remains on the public record in favour of Craig Whyte," Clark told BBC Scotland.
"My view is that security has no value."
Whyte thwarted an HM Revenue and Customs attempt to choose its own preferred administrator as Duff and Phelps was called in by the owner on 14 February.
But, since then, the administrator has launched a legal battle with Whyte over what it views as missing funds and broken promises.
"From what I understand, there's very little benefit that's likely to be made available to Craig Whyte," he said.
"There's no obvious signs, or information, or clarification we've seen that would suggest he's actually paid any personal money into Rangers Football Club and therefore I don't see at the moment that he has secured creditor status."
Asked if the potential liquidation of the club might suit Whyte in terms of financial gain, Clark added: "Liquidation tends to be the death of a business, or a football club in this case, and death tends to destroy value, so I don't fully understand why it's felt Craig Whyte, or indeed anyone, could benefit or profit from that.
"There is no upside to it as far as I can see."
The administrator this week had called for more speedy discussions over a possible takeover as it attempted to limit the requirement for staff cuts and Clark now appears more confident of finding a buyer.
"They have been very positive," he said of their talks, pointing out that Ibrox Stadium, the Murray Park training ground and the playing staff would all be part of a sale.
"We've got several parties who appear to be asking all the right questions and we are looking for them to move forward to make some bids to us we hope at some point next week.
"There are a number of parties who've been getting along quietly with doing their work behind the scenes.
"Just because people have been chatting in the press does not necessarily mean they are the front-runners.
"There have been a number of consortiums and some individuals seem to have attached themselves to more than one consortium.
"What we want to do is flush out these various parties and make sure that, if people really are serious, then we find out who they are soonest so we are dealing with a smaller population of potential buyers as opposed to too many of them."