Sir Alex Ferguson surprised by Premier League's England letter
By Alistair Magowan
BBC Sport
Last updated on .From the section Football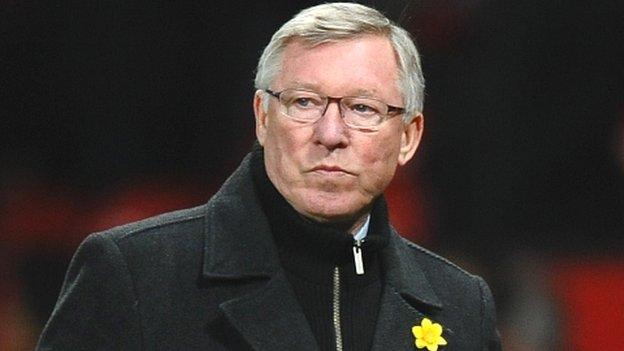 Manchester United boss Sir Alex Ferguson has revealed the Premier League has asked all its managers not to discuss the vacant England job.
Tottenham's Harry Redknapp had been described by Ferguson as "the best man" to replace former coach Fabio Capello.
But the Premier League has written to top-flight managers at the request of Spurs asking them not to discuss England candidates under contract.
"You can't believe [I've been sent a letter], can you?" said Ferguson.
Asked why he had received the warning, he said: "I've absolutely no idea. I'm not supposed to discuss it."
He then joked: "So I'm out of the running."
Ferguson is among a host of Premier League managers and players to have backed Redknapp for the England job following Capello's resignation on 8 February.
Liverpool boss Kenny Dalglish and Newcastle's Alan Pardew have supported the 64-year-old's credentials for the post, as well as England and Manchester United players Wayne Rooney and Rio Ferdinand.
But the Premier League told BBC Sport it is in its rules that club officials should not comment on other clubs' contracted employees.
Sunderland manager Martin O'Neill and Blackburn boss Steve Kean confirmed that they had received letters, while Norwich's Paul Lambert and Wigan's Roberto Martinez said they are yet to.
And Arsenal coach Arsene Wenger said that despite the directive from the Premier League, he would continue to speak about the issue.
"I believe everybody is free to talk about the England job," he stated. "In fact I spoke many times about it so I have done my sins.
"It is inevitable that if you have nobody in place, the press will be worried and ask questions about it."
Ferguson said last month: "There is no doubt Harry Redknapp is the best man. He has the experience and personality and the knowledge of the game. He has changed the fortunes of every club he has been at."
While the Football Association insists it has not spoken to any potential candidates to replace Capello, it intends to make an appointment at the "back end of the season".
Redknapp admitted he is "flattered" to be linked to what he regards as the "ultimate job for an Englishman".