Newcastle begin to benefit from Mike Ashley's approach
By Ian Dennis
BBC Radio 5 live senior football reporter
Last updated on .From the section Football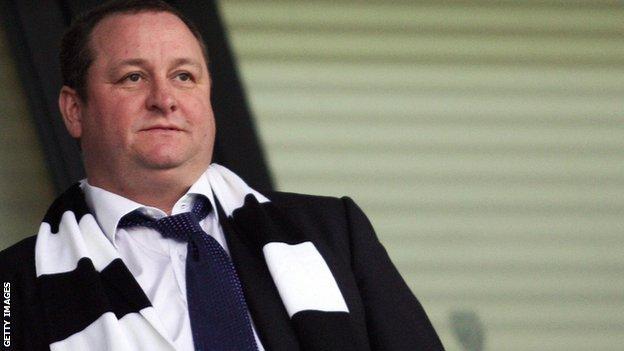 This summer marks the fifth anniversary of Mike Ashley's often turbulent Newcastle United reign.
Loved and despised by fans since taking control of the Magpies in June 2007, the multi-millionaire businessman remains an emotive topic of debate on Tyneside.
But for the first time in a long time, Newcastle are in a healthy situation on and off the pitch, challenging for a place in Europe next season and very nearly back in the black.
Where might they have been without Ashley's intervention? It is an interesting question.
When he took over, Newcastle had an external debt of £65m. When they were relegated from the Premier League in 2009, their wages to turnover ratio was 83%. That is like earning £20,000 a year and buying a £1m house - an unsustainable situation.
Thanks to a £140m interest-free loan from Ashley, the debt has now been cleared, saving the club a great deal in interest fees in the process. In 2007 and 2008, interest on that debt amounted to about £6.5m a year. Now annual finance costs are £212,000.
Figures released for the year ending June 2011 also show the club's turnover has increased by 69%, from £52.4m to £88.4m.
Derek Llambias, Newcastle's managing director, is in bullish mood. "We can now count ourselves among the very few clubs across the UK and Europe who are operating at close to break even," he said.
I once met Ashley in an informal setting. It was November 2010 and it was a brief conversation. I remember he talked about the attributes he felt someone needed to be a successful football club owner - "balls of steel and money to burn" - but he was not boastful. I found him to be quite the opposite. As first impressions go, I thought he was modest and self-deprecating.
Many predicted that Newcastle would go into freefall when they dropped into the Championship, but Ashley invested £25m to keep the club afloat and they bounced straight back into the top flight. His total investment is now approaching £300m.
Yet Ashley is still not the most popular man on Tyneside, his unwillingness to engage with fans doing him few favours in such a football-obsessed city.
It is that reticence to communicate that Michael Thewlis, a board member of the Newcastle United Supporters' Trust, believes holds supporters back from fully embracing the Ashley era
"The fans have rarely complained about the way the club was run on the field or financially behind the scenes," according to Thewlis. What has upset them, he says, is how supporters have been dealt with, how ex-managers Kevin Keegan, Alan Shearer and Chris Hughton have been treated, and how significant changes, like the renaming of the ground, have been communicated.
"If they were to talk to us and actively engage with the fans, they may be surprised at how they would be received," Thewlis added.
Nevertheless, Ashley has brought stability to the football club, while manager Alan Pardew continues to transform fortunes on the pitch. As they prepare to face Arsenal at Emirates Stadium on Monday, they lie sixth in the table, above both Liverpool and North East rivals Sunderland.
Newcastle's performances in the Premier League are increasingly key. Ashley's decision to introduce a fixed 10-year season ticket from the start of this current campaign may be great news for fans, but it means the club has maximised its match-day revenue streams.
The target now is to expand commercially and promote the club as a global brand. Qualification for the Europa League - the prestigious Champions League looks beyond them this season - would be a step in the right direction.
The club are also already working on adding to their squad in the summer, having recruited Papiss Demba Cisse for £10m in January and extended the contracts of captain Fabricio Coloccini, goalkeeper Tim Krul and Ryan Taylor.
The transfer market is an area where Newcastle "have dealt wisely", according to Llambias.
Not only have they recruited talents like Yohan Cabaye, Demba Ba and Cheick Tiote, they have also introduced a strict transfer policy that avoids dated payments for players bought or sold.
For instance, Ashley inherited a debt of £36m of outstanding payments on bought players. Now the club no longer pays for players in instalments.
It appears to be a good move, one of many Ashley has made in recent times, following a tumultuous start to life in Newcastle which saw fans protesting inside and outside the stadium at his perceived mishandling of the club.
"I would like it if Mike got the credit he deserved and it would be nice if he was accepted," Llambias said. "He's a good guy and he's got a good heart. Saying that, we know it's football and we are not always going to be popular."