Former Rangers boss Dick Advocaat defends spending policy
Last updated on .From the section Football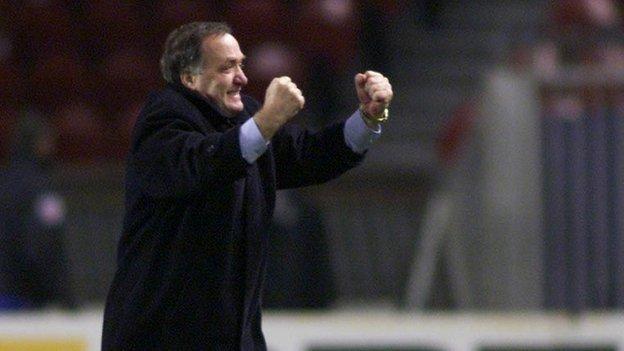 Former manager Dick Advocaat has defended the spending in his time at Rangers despite its role in the club's current financial plight.
About £36m was spent on players when Advocaat's was in charge at Ibrox between 1998 and 2002.
"My team became champions," said Advocaat, who was speaking during a European Championship finalists workshop in Warsaw.
"In that way, the money was worth spending."
The Russia boss yielded a domestic treble and double during his spell in charge at the Glasgow club, which he feels justified his transfer dealings.
Among his spends was a club record £12m on Tore Andre Flo, which proved to be a poor signing for Rangers, but Advocaat claimed most of his other acquisitions increased in value under his stewardship.
Giovanni van Bronckhorst, Arthur Numan and Andrei Kanchelskis were among the stars Advocaat brought to Glasgow as Rangers attempted to regain the league championship from Celtic.
"If you sell those players, you get more money back, then you spend," said Advocaat.
"That's the way you have to think."
However, the Dutchman did not deny Rangers had overspent, but he was still shocked the club was in such a difficult financial position.
"Probably, they spent too much money," said Advocaat. "Otherwise, you are not in this position.
"Unbelievable what's going on at Rangers because - with Celtic - it's one of the greatest clubs in the world.
"If you see how many fans they have in the world, it's a pity what happened now."
However, the former Rangers boss said he did not believe the Glasgow club would go bust and was confident a new buyer would be found soon.
Advocaat added: "I don't think that will happen.
"At the end, somebody always stands up to take it over."