Bolton, QPR, Wolves, Blackburn and Wigan set for survival test
Last updated on .From the section Football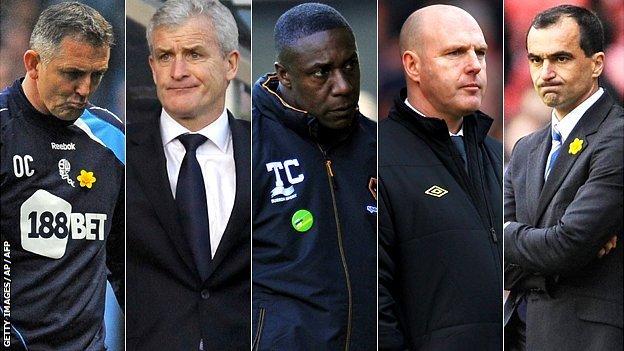 There are 11 games to go in the Premier League season, and this weekend could be a defining one in the battle to avoid the drop.
All five of the top division's bottom teams are in action, with four of the sides facing each other on Saturday.
The key matches take place at the Reebok Stadium and Molineux as second-bottom Bolton host 16th-placed QPR and Blackburn, who sit one place above the drop-zone, travel to the team immediately below them, Wolves.
As it stands, three of the bottom five are separated only by goal difference.
Ahead of this crucial weekend of action, what is the state of play? And what have the managers had to say about it?
Bolton v QPR, Saturday 1245 GMT
Bolton have endured the worst recent form of any of the bottom teams, losing five of their last seven matches.
QPR face a tough run-in, with six games against sides currently in the top seven before they meet Manchester City on the final day.
Owen Coyle, Bolton boss: "Nobody puts me under any more pressure than I do myself.
"As much as I put a brave face on things, deep down I am really hurting when we lose.
"I love this football club and, of course, there will be frustration from fans.
"But we are not getting too low because we know what is at the end of the tunnel.
"We have the vision. Now we have to achieve it in the last 11 games."
Mark Hughes, QPR manager: "A number of clubs in the bottom five are playing the top teams [during the run-in]. It's difficult to suggest who will beat who on any given Saturday between now and the end of the season.
"As we all know, there will be twists, turns, ups and downs for everybody.
"Sometimes when you're expected to win, you won't. Other times, when people have completely written you off, you'll get a surprise result. That will happen for all the teams at the bottom of the league this year.
"I don't doubt myself at all. I don't doubt the ability I have as a manager, my staff or the players I have."
Wolves v Blackburn, Saturday 1500 GMT
After a 5-1 humbling against West Brom and this week's difficulties with club captain Roger Johnson, Wolves have not had the best preparation in the last few days.
Conversely, Blackburn have displayed the best recent form of the bottom five, with two wins and two draws in their last seven matches.
Terry Connor, Wolves caretaker manager: "Roger Johnson has apologised. It's been dealt with. We have to move on.
"It is tough, but we're all looking forward to the game on Saturday.
"All we want the fans to do is to get behind the 11 that are out there on the pitch and give them every support that they can."
Steve Kean, Blackburn boss: "It's a big weekend for everybody. We're positive because of our performance against Wolves last year.
"We take confidence from already having taken points from the teams around us. We've taken points from Wigan, we've taken points from QPR. There's also only one game this season, against Manchester City, where we haven't scored away from home.
"We certainly don't want to be near the bottom of the table, but that is where we find ourselves.
"But the spirit and enthusiasm inside the place is excellent."
Norwich v Wigan, Saturday 1500 GMT
Wigan boss Roberto Martinez has some goodwill left in reserve with chairman Dave Whelan and the Wigan faithful, having guided the Lancashire club to two relegation escapes in as many seasons.
Nonetheless, his side have propped up the Premier League for long periods this season.
Roberto Martinez, Wigan manager: "It was said it was a special meeting [with chairman Dave Whelan after losing to Swansea].
"But it was a normal meeting, where we exchanged ideas and thoughts about how we can move the club forward.
"I never lost the backing of the chairman. He is a football man. It is very rare to have someone with such knowledge of the game.
"It is important that we sit down, reflect and look forward. We have to work together on the club strategy."