Daniel Levy wants Harry Redknapp to stay at Tottenham
Last updated on .From the section Football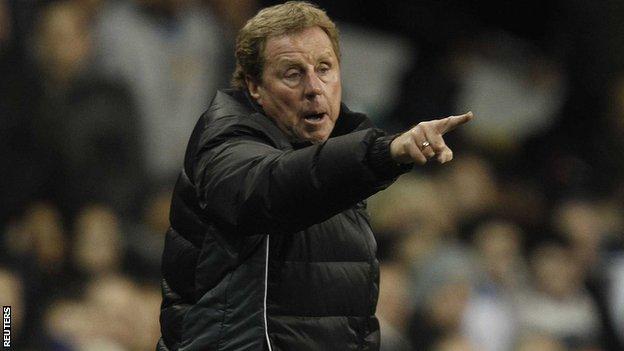 Tottenham chairman Daniel Levy has told manager Harry Redknapp he wants him to stay at the club, even though he is the favourite to take over as England boss.
But despite speculation, talks have not resulted in a new Spurs contract offer for Redknapp or the promise of funds to strengthen his squad.
"I speak to Daniel every day and he wants me to stay, which is fantastic," said Redknapp.
"But, at the moment, he has not made an offer and I haven't pushed for one."
The 65-year-old added: "We have not discussed how much money that is there to spend either. That has never come up in conversation at all."
Redknapp has been the front-runner for the England post since Fabio Capello resigned on 8 February but the problem the Football Association faces in approaching him is that he is also trying to guide Spurs to a top-four finish, which would earn them qualification for the Champions League.
The FA placed England Under-21 coach Stuart Pearce in charge of the senior squad for the recent 3-2 friendly loss to the Netherlands and the governing body says it currently has a shortlist of candidates and plans to make an appointment towards "the back end of the season".
Manchester United boss Sir Alex Ferguson, who has publicly backed Redknapp for the post, said he had received a letter from the Premier League asking him not to talk about the England manager's job.
Redknapp said he had not received any such letter and, although Spurs have lost their last two Premier League games, he insists talk linking him to the England job is not a distraction.
Spurs play Everton on Saturday and Redknapp could field former Toffees striker Louis Saha against his former club, despite Goodison Park boss David Moyes insisting there is a gentleman's agreement that the forward will not feature.
Saha joined Tottenham on a free transfer in January after three-and-a-half years at the Merseyside club.
"I think I have an agreement with Harry that he doesn't play," said Moyes. "If that is the case then Louis does not play unless Tottenham have lots of injuries.
"It was just something but if he plays it is not a problem.
"Harry told me if he is short of players he will play but if he is not he might not use him."
There are no Premier League rules over gentlemen's agreements, and Saha has travelled with the Tottenham squad for the game.
Redknapp added: "He is available. He has been in great form since he arrived at the club so we are hoping he will be OK.
"He spoke to me the other day. He said he is looking forward to going back there and playing. He certainly wants to play."