Caf rejects Man City's Africa Cup of Nations claim
Last updated on .From the section Football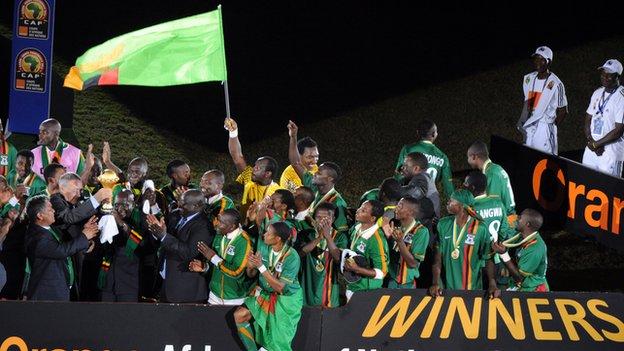 The vice-president of the Confederation of African Football (Caf) has rejected claims that the timing of the Africa Cup of Nations is "wrong".
But Suketu Patel said the tournament schedule was carefully thought through.
"We can't look at the situation purely from what the English league's problems are," Patel told the BBC.
"The time has been agreed with Fifa [and] the climatic conditions in certain parts of Africa do not allow us to play in [northern hemisphere] summer time," Patel said.
"It can be extremely hot in the northern part [of Africa] and in some places you have problems with rain."
And he pointed out that a change of schedule to suit one country would penalise clubs elsewhere, who also employ African players.
"You have to appreciate that there are a lot of players in China or Doha or the South African league, where the timing is not the same as the English league," Patel said.
"So if we were to go to June, you would have other leagues saying exactly what [Brian Marwood] is saying now.
"I agree with Mr Marwood that perhaps in England the number of games being played is excessive - but they have so many competitions.
"Two or three cup competitions, the European Champions League and the domestic league - so perhaps the solution lies not only with the Nations Cup but within the English league itself."
Caf has already adjusted the schedule of the Nations Cup from even years to odd years, to avoid a clash with the World Cup.
Clubs signed African players knowing full well that they might be required for international duty during January and February, Patel added.
"It goes to show that the value of African players is so high that, despite this difficulty for English clubs once every two years, they're still quite happy to sign them," he said.