Is there a formula for predicting who will avoid the drop?
By Michael Da Silva
BBC Sport
Last updated on .From the section Football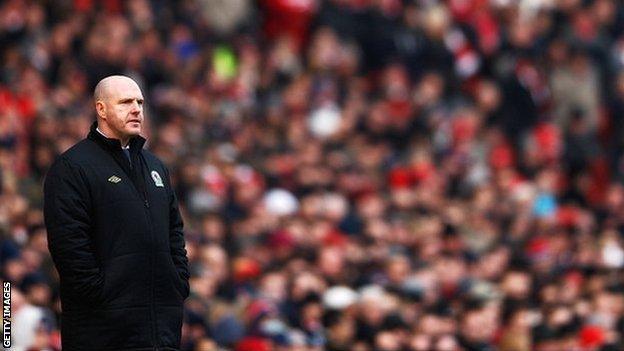 Ask the manager of a relegation-threatened Premier League club what he thinks of his rivals' chances of avoiding the drop and he will piously insist that "we can only concentrate on our own performances".
And for fans of the calculator, this season is as tantalising as they come. With 11 games to go, Queens Park Rangers, Blackburn, Wolves, Bolton and Wigan are separated by just two points - and four of those sides play each other in a
So, setting the number-crunching aside, what factors determine who survives?
Former Wigan defender David Unsworth has personal experience of last-ditch survival. His penalty on the final day of the 2006-07 season preserved Wigan's top-flight status and sent his former club Sheffield United down.
Unsurprisingly, his first remedy is a ready supply of goals - and the decisive few wins they can provide.
"You look at which teams have the best strikers to score the goals to keep them up, and QPR have Djibril Cisse, and Blackburn have Yakubu. Both are proven goalscorers and that could be the difference," Unsworth told BBC Sport.
"If a team can win two games back-to-back at this stage, it can be the start of a run that gets them out of trouble."
QPR invested heavily in January, bringing in former Fulham striker Bobby Zamora as well as Cisse, in a bid to boost their firepower.
They may, however, need both of them on song.
Based on the remaining fixtures, the west London side appear to have the toughest task. Mark Hughes's men are the only club in the bottom five still to play each of the top five, including two trips to Manchester, and they also host seventh-placed Liverpool.
In contrast Bolton, who entertain QPR in the lunchtime kick-off on Saturday, only have to face one of the top six.
And there is another factor that might count against Rangers.
Unsworth says the role of the manager is crucial in instilling the belief the players rely on - but also that stability and continuity play a large part in that.
"Paul Jewell did a fantastic job keeping Wigan up in 2007. He had also done it with Bradford in 2000 and never stopped believing, and that rubbed off on us," said Unsworth.
"I think it helped that Paul was part of the club from the start of the season. Sometimes that stability can really help."
So it would appear. History shows that clubs battling relegation are less likely to avoid the drop if they change their manager during a season. Indeed, in 2010, all three teams to go down - Burnley, Hull and Portsmouth - had changed their manager.
So do Hughes - and Terry Connor at Wolves - have a tougher job than their counterparts? And is Blackburn boss Steve Kean - derided by many Rovers fans all season - still a better bet than a late change at the helm?
As Unsworth notes, it really comes down to the individual circumstances.
"It hasn't quite worked for Hughes at QPR yet," he said. "He's been getting similar results to Neil Warnock.
"But look at Martin O'Neill at Sunderland - when he took over they were in the bottom three and never looked like winning a game. It all depends on how the players react to the new manager."
Blackburn, with Kean still in post, travel to Wolves on Saturday to meet a team that has managed an encouraging draw and a demoralising 5-0 drubbing in the two games since Connor was appointed to replace the sacked Mick McCarthy.
Former Rovers striker Kevin Gallacher believes it is lack of continuity away from the pitch that has made life hard for the Ewood Park side. New owners Venky's have unsettled the club and left Kean with a thankless task, he maintains.
"Steve is doing the manager's and the chairman's job - there's no communication with the owners," Gallacher told BBC Sport.
"Venky's have come in and tried to restructure the club from top to bottom rather than bottom up. Most businesses that are taken over keep things stable for a couple of years. But Venky's have been hasty and the club has struggled to find its feet."
Even so, he is optimistic about his old side's chances. "It's a tall order but I believe they're better than most of the teams in the bottom five."
And what of Unsworth, whose old side sit bottom of the heap - what outcome does his formula predict? Sensibly, he is hedging his bets.
"There's always a couple of unexpected results that propel a team on to a run. Who would have thought Blackburn would win at Old Trafford?
"I see it going down to the wire."
Back to the calculators.