Swansea's Brendan Rodgers reveals rebuffed summer advances
Last updated on .From the section Football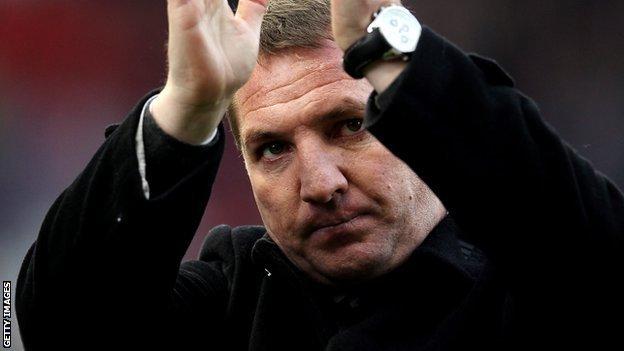 Swansea City manager Brendan Rodgers says he rejected offers to manage other clubs before the start of the season.
Rodgers, 39, refused to name the summer suitors but revealed he turned down the chance to increase his salary.
The Northern Irishman was targeted after guiding Swansea into the Premier League in his first season in charge.
"I could've gone in the summer and got more money, but it wasn't about me then, it was the well-being of my family," Rodgers told BBC Wales Sport.
"And I wanted to ensure this club was protected by getting players here signed for longer term.
"Once we'd done that, I always said I would then commit myself and I've done that. What the future holds, you just never ever know.
"But I always have a sense of the present and the present now is that I'm very happy at this great club and I'll continue to fight for what is a great club and a great city."
Rodgers' stock has further risen since the summer as he steers Swansea towards Premier League survival.
Another three points would take them to 36 - a points tally that has proved enough to avoid relegation in 10 of the last 13 seasons.
Their next test comes on Sunday at home to leaders Manchester City, another team to have tried, and failed, to tempt Rodgers.
City's offer of a coaching role came a few months after Rodgers had been sacked by Reading in December 2010 after an ill-fated six months in charge.
He was shown around the club by City executive Brian Marwood in May and then met manager Roberto Mancini in Milan after the season had ended.
Despite being out of work and faced with the opportunity of working for one of the world's richest clubs, Rodgers declined City's offer and a few weeks later he was appointed by Swansea.
"It was a terrific little period I had there because it obviously restored my confidence," said Rodgers, a former Chelsea youth and reserve team coach.
"At that time I was out of work and I really wanted to get back into my natural environment, which is the training field.
"Here was a club that was going to be one of the biggest clubs and one of the powers of European football and was keen to have me on board."
City's loss was Swansea's gain as Rodgers made an immediate mark by taking the south Wales club into the Premier League through the Championship play-offs.
Rodgers has "no regrets whatsoever" about his decision to snub City, and talks passionately about how happy he and his family are in Swansea, despite the financial constraints that come with the job.
His success and stylish brand of football has led to him being mentioned as a contender to succeed the sacked Andre Villas-Boas at Chelsea.
Despite his strong links with the club, Rodgers this week said he had no interest in the job, declaring he was "trying to build my career, not destroy it".
That was not a disparaging remark on Chelsea, he stressed, but rather a self-assessment of how much more he has to learn and the pace at which he now wants to develop.
"I tried to run to the top of the mountain earlier in my career and I fell," he said referring to his period at Reading.
"I fell back down to the bottom. I got a chance to climb it again and this time it's a steady walk for me and that's how I'm approaching it."