Liverpool and Ajax hold high hopes for next generation of top players
Last updated on .From the section Football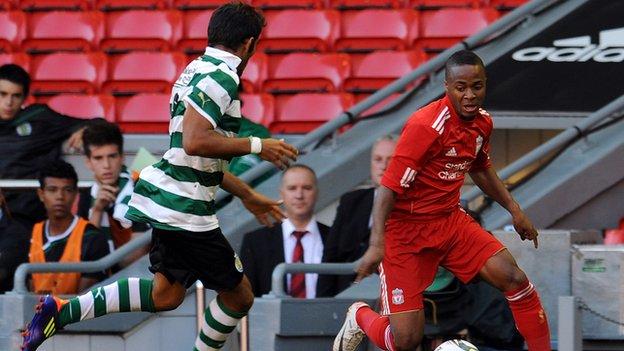 Despite a total of nine European Cups between them, Liverpool and Ajax have struggled to find a seat at the Champions League's top table in recent years.
Their senior sides may not have matched the feats of teams from the past or kept pace with their monied rivals in the present, but the performances of their respective academy sides this season have offered hope that the future may be brighter.
As the last eight of the Champions League is finalised without them on Wednesday, Liverpool and Ajax will meet in the semi-final of the NextGen series - an equivalent competition for under-19s.
The tournament aims to bring together the continent's best young players and the roll call of teams and individuals involved in its first year is impressive.
Barcelona, Manchester City, and Sporting Lisbon are among those already eliminated while several of the players involved in the other semi-final - Inter Milan against Marseille - have tasted first-team European football.
Originally, Tottenham did go through to the semi-final after beating Liverpool but the Reds were reinstated after Spurs admitted "inadvertently breaching competition rules".
With Uefa's financial fair play rules making it harder to splash out on older, proven performers and the Football Association's Elite Player Performance Plan hoping to turn top English academies into factories of future superstars, NextGen looks a well-timed addition to the fixture list.
"As a club we are totally behind it," Liverpool's academy director Frank McParland told BBC Sport.
"Both [manager] Kenny Dalglish and [director of football] Damien Comolli have watched every single game and after each one we speak about how the players have done and what we can put in place to get them to the next level."
The coaches' attention has not been limited to their own teams though.
Liverpool have stepped up their pursuit of teenage English talent - splashing out on Jonjo Shelvey,Raheem Sterling,Seyi Ojo and Jordan Ibe in the last two years - and now they have another way to extend the search.
"One of the things we have got out of NextGen is that we have signed who did really well against us for Sporting Lisbon," said McParland.
"You are obviously scouting the tournament as well and that works out really well when you are looking at other players at other teams."
Fred Grim will be in the dug-out opposite McParland on Wednesday night and he has seen at first-hand the benefits of focusing on the future.
Before he moved into coaching at Ajax, the 46-year-old's playing career coincided with the most famous and successful example of the club's fabled youth development programme.
Grim was an unused substitute as an 18-year-old Patrick Kluivert scored the winner for a homegrown and unhearalded side against the aristocrats of AC Milan in the 1995 European Cup final.
"I think it is still possible, but to do it the Ajax way, it is possible maybe once in 10 years or so," Grim said.
"It cannot continue because when we have good young players, other clubs will get them away and we have to start all over again."
That was a reality that the then-Ajax coach Louis van Gaal knew in 1995.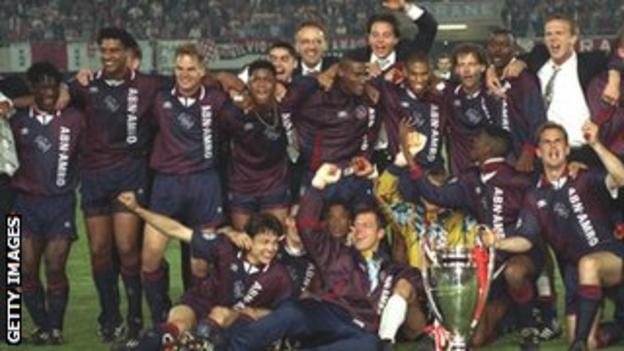 His post-final prediction that the products of the club's De Toekomst academy would be snatched away was realised as Kluivert, Clarence Seedorf and Edgar Davids left for Italy.
With clubs like Liverpool chasing the brightest prospects, will participating in NextGen bring unwanted attention to Ajax starlets at an even earlier age?
"We have known about the problem for a couple of years and we have to deal with it," adds Grim.
"Other clubs are coming too soon for them because it is so much better to play a lot of games in the first team, get to a higher level and then they can go abroad.
"Being able to tell the young players that they can play big games like this at Ajax is one of the reasons why we play NextGen."
Ajax progressed to the semi-finals with a 3-0 win away to Barcelona and Grim replies an enigmatic "maybe" when asked if they are as good as their generation of 1995.
NextGen will give both his and McParland's current crops plenty of big games to further raise expectations with eight clubs, including new entrants from England and Spain, added from next season.