Rangers: Tax case outcome 'will not hold up sale'
Last updated on .From the section Football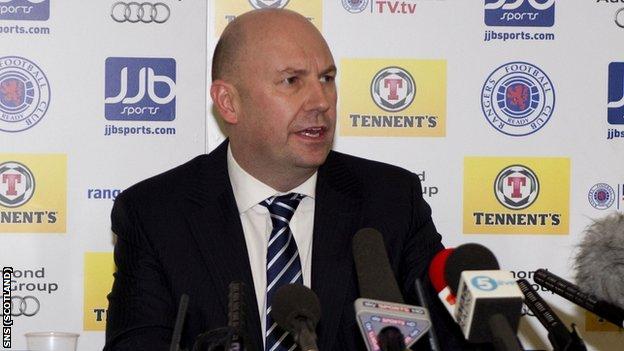 Joint administrator Paul Clark says the pending outcome of Rangers' tax dispute will not hold up the sale of the club.
Rangers are awaiting the verdict of a tribunal, commonly known as the 'big tax case', relating to payments to employees over a 10-year period.
"The big tax is something that is out of our hands," said Clark.
"Even if the big tax case decision has not actually been delivered, we still think that we could conduct a transaction with a new buyer."
And he added: "Just because we don't have the final extent of the amount that's outstanding, it needn't hold that process up, so it doesn't concern me.
"To some extent it's about what that would mean in terms of the deal that was offered to settle the big tax case."
Asked about the possibility of a "deal" being made with HM Revenue and Customs, Clark replied: "We're not at the stage where we can go to any of the creditors with any specifics and so I think that it would be too early for me to say what the chances of a deal with any of the creditors are.
"It's something that, when we've got a considered position, when we've got a suitable purchaser, that will be the time to sit down and talk to the various of the stakeholders who at the end of the day will need to make the decisions and that's the creditors."
Clark also reiterated his firm Duff and Phelps' view that the club can avoid liqidation and that the required information was being made available to prospective buyers.
"The plan of ours from the outset is to avoid any talk of liquidation," he said.
"We firmly believe that Rangers Football Club will continue to operate and that's why we are talking to all these parties and that's why it was so important to get all the necessary cuts in place so that we could keep the club in operation for long enough to enable a party to come in and make an acquisition.
"We have given as much clarity as we can. There are some issues that still need to be dealt.
"We believe that we can give that clarity to enable someone to make a considered judgement in a more stabilised environment so that they know what they're buying and that they know what they're getting into."
Meanwhile, former Motherwell chief executive Pat Nevin believes Duff and Phelps's success in reaching an agreement over wage cuts at Ibrox "is a way for Rangers to possibly survive only until the summer".
Former Scotland international Nevin, who was at Motherwell during the Fir Park club's period of administration, told BBC Radio 5 live: "There are two ways out; one is a CVA [company voluntary arrangement] then asking HMRC to look for 10p in the pound and the £49m big tax bill and there's a smaller tax bill - which is considerable too.
"If the HMRC do not agree then there is no route out. Nobody is going to come in and pay £60m/£70m to Rangers because that money will never be recouped.
"They still have massive problems."