QPR boss Mark Hughes blames officials in 'goal' row
Last updated on .From the section Football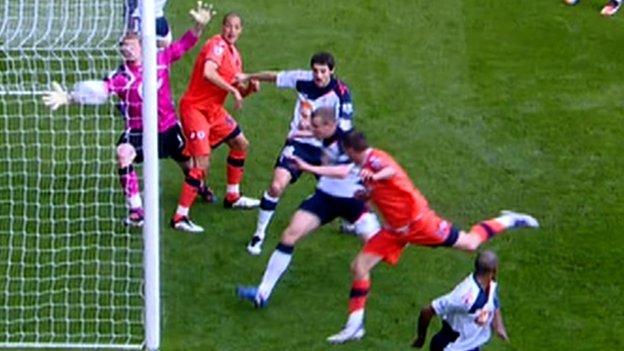 Queens Park Rangers manager Mark Hughes says match officials are not doing their jobs following his side's 2-1 defeat by Bolton.
The referee failed to award QPR a goal at 0-0, despite television replays showing Clint Hill's header clearly crossing the line.
Hughes said: "We have to demand that their performances are better. The referee was let down by his assistant.
"Clearly the ball was over the line. The linesman is there to see that."
Hughes added: "That is what his job is. We can't have key moments in games being officiated in the way they are at the moment.
"The official should do their job, looking down their line. The linesman's job is to check for that. No excuse, because it wasn't a close decision.
"Martin Atkinson is acknowledged as one of the better referees and his performance was okay, but I thought he was let down by his assistants. Obviously from our point of view to have that clear goal chalked off was a significant moment."
Bolton keeper Adam Bogdam, who hooked the ball out after it had crossed the line, said: "I just tried to save the ball, and the referee didn't blow his whistle.
"It's hard to make a decision because it's all so quick ... I wasn't sure if it was in or it wasn't a goal."
The Football Association quickly issued a statement before the game had ended, repeating their call for goal-line technology to be introduced "as soon as possible".
Hughes said: "Laughably, the FA has come out almost immediately and said they're in favour of goal-line [technology].
"What we're finding is that key moments and key decisions in games are going against us. We just need officials to give us a fair crack of the whip.
"You have to understand the significance of scoring first. We were the away side and we would have gone on from that point."
The FA statement read: "The FA would like to reiterate our strong desire to see goal-line technology introduced as soon as possible.
"The FA has been a leading proponent of goal-line technology for many years. We will continue to press for its introduction once further independent testing is complete later this year, so that anyone wishing to introduce the technology is able to do so at the earliest possible opportunity."
It comes a week after the introduction of goal-line technology moved closer to implementation when the latest tests were considered at the annual general meeting of the International Football Association Board (IFAB).
IFAB, which sees the four home nations and Fifa come together to discuss the laws of the game, recommended that two versions of goal-line technology be put forward for further trials - one from British company HawEye and the other a German-Danish system called GoalRef.
A final decision will be taken in July and which might not leave sufficient time for a system to be put in place for the Premier League kick-off about six weeks later.