Inverness boss Terry Butcher demands a ruthless streak
Last updated on .From the section Football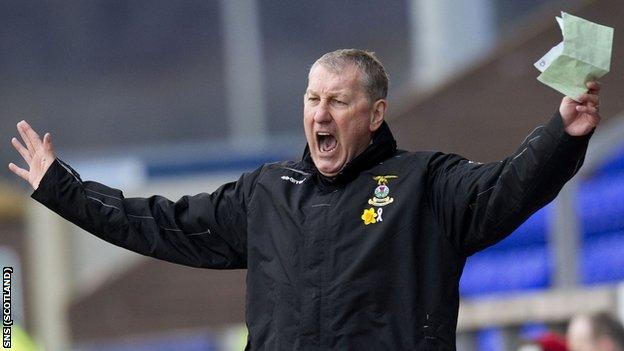 Inverness manager Terry Butcher is sick of scorned chances after his side scraped a draw with Kilmarnock despite dominating the match.
"For them to get a point out of the game is a joke as far as I'm concerned," he said.
"They should have got nothing, but we haven't done enough to put the ball in the back of the net.
"The players have to accept that what they're doing isn't good enough in terms of being ruthless."
Roman Golobart's spectacular own goal gave Killie the lead, but the defender scored at the right end to level despite Cammy Bell's repeated resistance in the visiting goal.
"Cammy Bell has had a wonderful game, he's made some tremendous saves and been brave at times as well," said Butcher.
"We've asked him questions, but not enough. I think we've only got ourselves to blame on that.
"I remember saying these words a few weeks ago, then a few months ago and at the start of the season. It's like a scratched CD as far as I'm concerned.
"How many chances did we have today? Probably about 20. Not so much clear-cut chances, but we scored one goal. That ratio does not work in football.
"The really good thing is that we are making the chances and, like I say, we domintaed the game.
"However, for us not to get three points in this game's an absolute travesty."
Killie manager Kenny Shiels agreed that Bell's performance had been impressive.
"At this moment in time, Cammy Bell is the best goalkeeper in Scotland," said Shiels.
"He's just edged himself ahead of [Rangers keeper] Allan McGregor and it was a fantastic performance once again from him."
Shiels felt the Inverness goal should have been ruled offside but was also frustrated his side did not keep better possession of the ball when they were in front.
"They should've been looking to frustrate them and keep the ball and play our short passing game," he said. "But It was too much panic-type football. Inverness had about 30 shots at goal.
"That's 30 games I've had as manager of Kilmarnock Football Club. We've lost 10, which is very good but the fact that we've drawn 13 takes the shine off it, we've had too many draws.
"So, 20 of our 30 games this season, we haven't been beaten, which is remarkable. We're up to seventh position in the league and that's incredible. We're now 15 points off relegation so it's a remarkable achievement."