Rangers attract Far East and American interest - administrator
Last updated on .From the section Football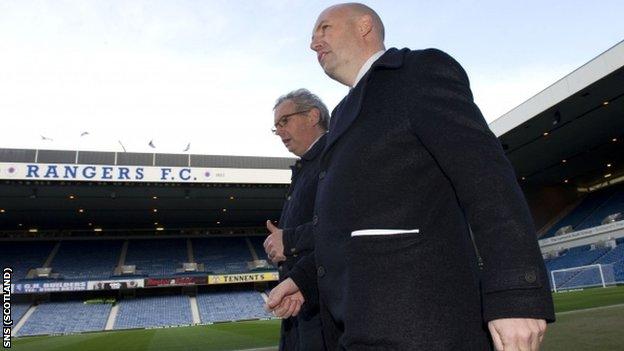 Rangers' administrator says it has received interest from the Far East and the American continent in buying the stricken Scottish champions.
Joint administrator Paul Clark said: "What we want is to have only serious bidders left by the end of the week.
"There is at least one party from the Far East and we've had some interest as well from the American continent.
"There's been a number of meetings over the last few days and more planned for next week."
Former Rangers director Paul Murray told BBC Scotland on Friday that his Blue Knights consortium expected to finalise an offer for the club by the end of this week.
Current Rangers director Dave King is also involved with that group, while Brian Kennedy, the Scottish businessman who owns rugby club Sale Sharks, has previously indicated that he made an enquiry to the administrator.
Duff and Phelps held talks at the tail end of last week with various interested parties before reaching an agreement with the first-team squad to take wage cuts of up to 75% to allow the club to stabilise finances enough to continue playing football until the end of the season.
But the administrator wants to make sure that that those interested parties are serious bidders and Clark points out that those include some who have yet not been named in the media.
"So anybody who has just been talking - and there are a few out there who have done a lot of talking - we want to seek them out and, as it were, put their money where their mouth is," he told Rangers' website.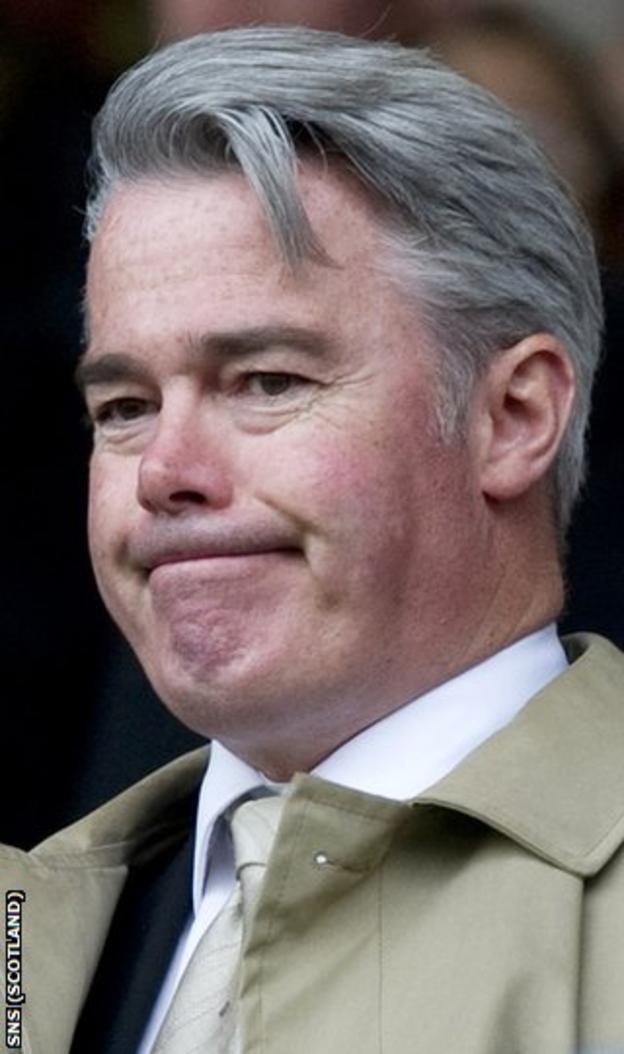 "Let's get them round a table so we know how many parties we've got. I don't care how many bidders we end up with, but I want to know who they are, what they are and what their worth is, so then we can have more serious conversations about achieving the end goal, which is to get Rangers under new ownership.
"This is the problem we have got. We have one or two parties prepared to talk to the media and then you have other parties who have been quietly and slowly and diligently getting on with their business behind closed doors outside of the glare of the media and we are taking them just as seriously as anybody who is on the front page of the newspapers saying, 'I'm going to buy Rangers, you just watch'.
"If somebody wants to involve the media, that's fine. And if they become the owner then they can sit on the front page of all the papers saying, 'I did it'.
"But don't be surprised if that owner isn't one of the people who is media-friendly.
"I am not ruling anybody out in this process, absolutely not. I'm just saying that nobody should assume that the only serious bidders are the ones who are in the public domain."
Clark did not wish to be specific about any bidders but stressed that there was worldwide interest.
"We're talking about Scotland, wider UK and some overseas parties," he said.
"We hope and believe that a new owner will be installed before the end of the season so that it's not us in charge at season's end. That's our objective.
"What we've done so that people realise they need to speed themselves up is to say that on Friday we want to receive absolute proof of your funding, so we understand who you are and which camp you are in because some people have feet in various camps.
"We want to know who exactly has your money. More importantly, we want some form of indicative bid, so that will distil down however many parties we have got at the moment to the final few."