Celtic manager Neil Lennon threatens no media co-operation
Last updated on .From the section Football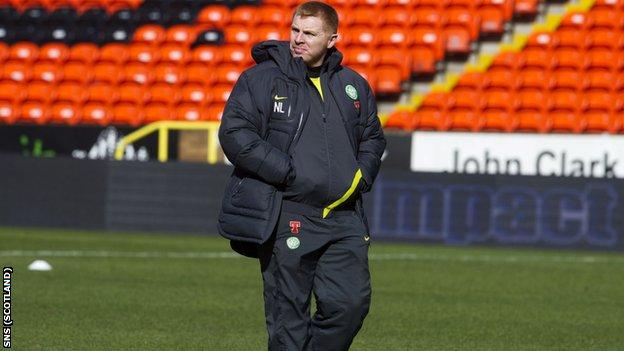 Celtic manager Neil Lennon has warned BBC Scotland the club will not co-operate with sections of the media for the rest of the season.
Lennon accused the Scottish press of deliberately attempting to draw Celtic into Rangers' financial crisis.
"There's a lot of muckraking going on between some hacks," said Lennon.
"There's going to be a lot of media outlets disappointed, because me and the players are not going to be speaking to you."
Celtic cancelled their pre-match media conference on Friday and Lennon said journalists and reporters should expect more of the same as the season enters its final phase.
"We decided not to do a press conference this week because of all the nonsense that's going on elsewhere," said Lennon ahead of Celtic's 4-0 Scottish Cup quarter-final win over Dundee United.
"So we decided we're not even going to bother with you this week and just get about our business quietly and we'll do our talking on the pitch."
Reigning champions Rangers have gone into administration while Celtic have overturned a 15-point deficit to lead the Scottish Premier League by 21 points.
Lennon said he was angry at reports suggesting Celtic were trying to benefit from their Glasgow neighbour's financial worries.
"It's in the hands of the legal team and I'm probably best not to say to much about that, but you know exactly what I'm talking about," he said.
"It doesn't bother me at all - we just said, right, we're not going to talk to anyone.
"We're going to get our heads down, not look at a newspaper. We want to talk about football and the achievements we're hoping to get over the line this year.
"We'll maintain that for the rest of the season, but I don't care, I'll do it through the club if I have to.
"We're nothing but professional and respectful to the media - and yet they do us no favours.
"They keep throwing things in our face and keep trying to make confrontations with people that aren't there.
"So, enough is enough - they've not done me any favours over the piece.
"I'm angry, but I'll deal with it in my own way."
While suggesting he would not be co-operating with the media, Lennon did speak to BBC Scotland and Sky television after the victory over United, one that kept Celtic on target for a domestic Treble.
"I thought we were not like ourselves in the first half, but in the second half I thought we were terrific," he said.
"To give United credit, the scoreline probably flattered us.
"If we play like we did in the first half, there will be no Treble."
Meanwhile, Lennon added that he had been left devastated by the death of Paul McBride, the QC who has represented the Celtic manager and was a personal friend before his death last week in Pakistan.