Marc Richards fears Micky Adams could depart Port Vale
Last updated on .From the section Football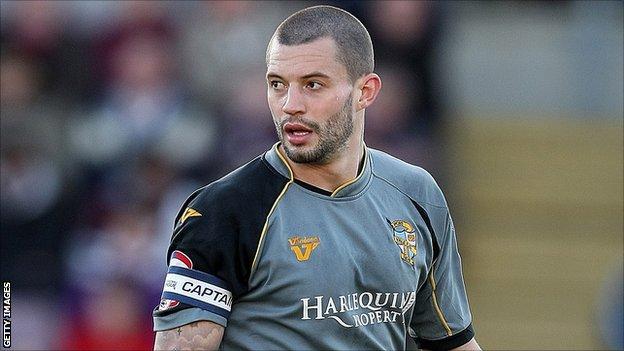 Marc Richards does not want manager Micky Adams to leave Port Vale as a consequence of entering administration.
Adams said on Saturday that he is seeking legal advice following a meeting with administrator Bob Young.
Vale captain Richards told BBC Radio Stoke: "The lads look up to him [Adams] and see him as a role model.
"If the administrator believes that relieving Micky Adams of his duties will be better for the club, that will be a tough one to take."
Richards added: "It would be a massive loss if he left and we certainly hope that he doesn't."
and were deducted 10 points, all but ending their hopes of reaching the League Two play-offs.
The former Barnsley striker, who took his tally for the season to 13 in the 2-1 defeat by Barnet on Saturday, has recently attracted interest from Crawley.
However, the 29-year-old has said he is committed to Vale.
"I had contact from Crawley but I was straight from the start," said Richards. "I told the manager that I was keen to stay at Vale.
"Crawley are chucking money about all over the place and they're involved in the play-off race.
"I could have easily gone down there and jumped ship, but as captain of the football club, I didn't want to be seen to be bowled over by a bag of money.
"It's not about that for me and I think I've proved that over the years. I could have left for bigger wages and clubs in higher leagues, but my heart's in it at Vale and I want to see the season through.
"If it's in the best interests of the club, that's the only way I'll leave the club. I think that's the same with every player. The club comes first."