Cas upholds two-year ban on Mali's Amadou Diakite
Last updated on .From the section Football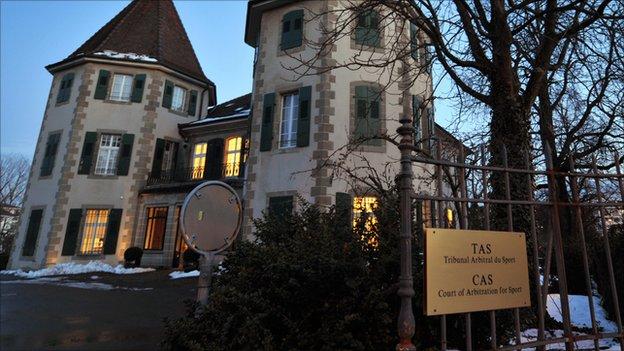 Fifa says it is 'satisfied' by the decision of the Court of Arbitration for Sport (Cas) to uphold bans on former executive committee members Amadou Diakite and Ahongalu Fusimalohi.
Cas took its decision on Thursday but has yet to make it public.
In a statement, football's governing body says the verdict 'underlines once more Fifa's zero tolerance' for breaches of its ethics code.
Diakite, from Mali, and Fusimalohi of Tonga were suspended in November 2010.
At the time, Fifa said the duo bad broken rules on general conduct and loyalty, and failing to report evidence of misconduct.
They were both suspended and fined in relation to the scandal that hit the bidding process for the 2018 and 2022 World Cups.
The Fifa ban was imposed after claims about bribery reported by the Sunday Times newspaper were reported to a British parliamentary enquiry.
Diakite, from Mali, was removed from FIFA's referees committee and Fusimalohi lost his job as chief executive of Tonga's football association.
In February 2011, Fifa's Appeal Committee reduced both the bans and fines for Diakite and Fusimalohi.
Malian Diakite had his sentence reduced by one year but was still saddled with a two-year ban from any football-related activity.
Fusimalohi of Tonga received similar largesse and like Diakite, his fine was also reduced from 10,000 Swiss francs to 7,500 (£4,900).
Diakite and Fuimalohi were two of six officials sanctioned by Fifa in the scandal that preceded voting for the 2018 and 2022 World Cups.
Tunisia's Slim Aloulou, Ismail Bhamjee of Botswana, Reynald Temarii of Tahiti and Nigeria's Amos Adamu were also punished.
Last month, former Executive Committee member Adamu also lost his appeal against a three-year Fifa ban at Cas, the highest legal power in sport whose base is in the Swiss city Lausanne.