Hearts part company with injured striker Kevin Kyle
Last updated on .From the section Football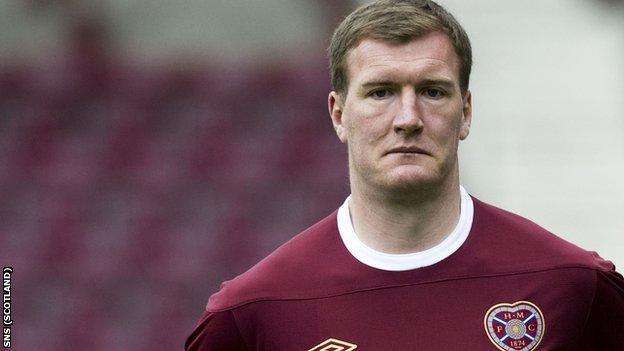 Striker Kevin Kyle has parted company with Hearts after agreeing to an early termination of his contract.
The 30-year-old, whose current deal was due to expire at the end of the season, is sidelined following hip surgery.
"Kevin has had a horrendous time with injury for the past 12 months or so which has been really unfortunate for him," a club spokesman said.
Kyle, who joined from Kilmarnock in 2010, hopes to return to the club.
He told BBC Radio Scotland his reasons for ending his contract, one of which was that his rehabilitation will extend beyond the end of his contracted term at Tynecastle.
"It was more my decision. I pushed for it because I've been injured now for 14 months," said the former Sunderland striker.
"I said 'why don't we agree to settle up?'. They were quite happy with that.
"I had surgery four weeks ago and it's the last piece of surgery I'll get because I'm going to find out out if I'm going to continue playing football or not.
"The last six months or so I have been working with an outside physio and I feel more comfortable with him because he has rehabilitated a number of hips.
"I'm very confident of getting back playing. The surgeon gave me grounds to be optimistic."
Kyle scored his last goal for the club in the Edinburgh derby win at Tynecastle on 1 January 2011.
He made nine of his Scotland appearances as a Black Cats player between 2002-04.
"I'd like to thank the club for looking after me and trying to get me back fit," he told the Hearts website.
"I'd also like to thank the fans for taking to me and [making] myself and my family feel so welcome during my time here.
"All going well when I get back fit, I'll have the opportunity to do a pre-season here in the summer and perhaps earn the chance to play again for the club, maybe on a pay-as-you-play kind of deal.
"That's a wee bit in the future, but hopefully the fans haven't seen the last of me as a Hearts player."