Liverpool manager Kenny Dalglish seeks derby day reaction
Last updated on .From the section Football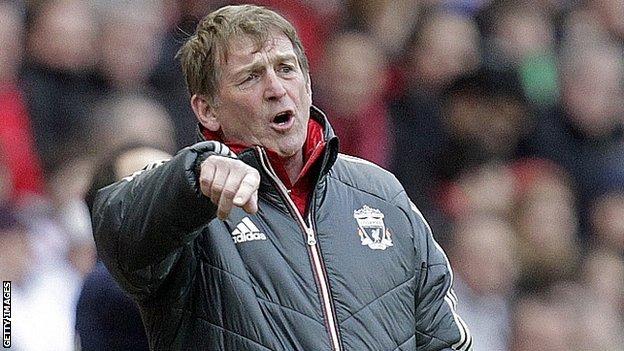 Liverpool manager Kenny Dalglish and captain Steven Gerrard are calling on the Reds to end their recent slump with a derby win over Everton on Tuesday.
The Carling Cup winners have lost their last three league games, their worst run since 2003, and Dalglish insists everyone at the club is accountable.
He said: "Everyone needs to stand up and be counted and see what we can do."
Gerrard added: "We need a reaction and there's no better team to produce that against than Everton."
Liverpool have not tasted victory in the Premier League since 31 January, although they did beat Cardiff City on penalties to win the Carling Cup just a fortnight ago - and are through to the FA Cup quarter-finals.
"It depends what teams you're playing," said Dalglish, "but certainly it's not a record you expect from Liverpool.
"We don't want to get into the habit of losing games but, in between the losses, we've had a Carling Cup victory.
"We want to continue to progress, and I think we are progressing. We've also got a stronger squad this year than we had last year, but we've got to put points on the board.
"We just need to keep believing in ourselves and keep pushing forward, but we know it's going to be difficult tomorrow."
A defeat by Everton at Anfield would see the Blues leapfrog the Reds into seventh place. And Gerrard is calling on his team-mates to help ensure that does not happen.
"The players need to take responsibility for where we are in the league," he said.
"It's just not good enough for a club like us to be there. We have to find a better level of consistency. It's important the players put in a performance and get a result for the fans.
"Everyone is a bit down after recent results but we want to put a smile back on their faces."
Following Tuesday night's derby, Liverpool then meet Stoke City in Sunday's FA Cup quarter-final at Anfield (1600 GMT).
"It's a big week and we want to go into that Cup tie with Stoke on the back of a win," said Gerrard.
Liverpool face a resurgent Everton side unbeaten in nine matches in all competitions, a sequence which has included Premier League wins over Tottenham, Chelsea and Manchester City.
But Everton boss David Moyes, whose team have not won at Anfield during his 10-year tenure, is not reading too much into those statistics.
"A lot of the years I have gone into the game and Liverpool have been the form team, and folk have said: 'Who knows in derbies'. You never do know."
The Toffees' last triumph at Liverpool came under Walter Smith in 1999.
Asked if he would be happy simply not to lose, Moyes said: "Over the years, I think it would have been a great result for any team to go and do that, because Anfield has been a hard place to go.
"Liverpool have got really good support and a good team. It has never changed.
"We will go to Anfield and try to win and then, if you can't do that, the next thing you want to do is try to get a draw.
"I certainly would be happy on Wednesday if my team win," added Moyes, who celebrates his 10th anniversary as Everton boss the day after the game.
"But, whatever happens, I'll still wake up with a good feeling because I have done 10 years at a great club like Everton."