FAW seeks route into Europe for Cardiff and Swansea
Last updated on .From the section Football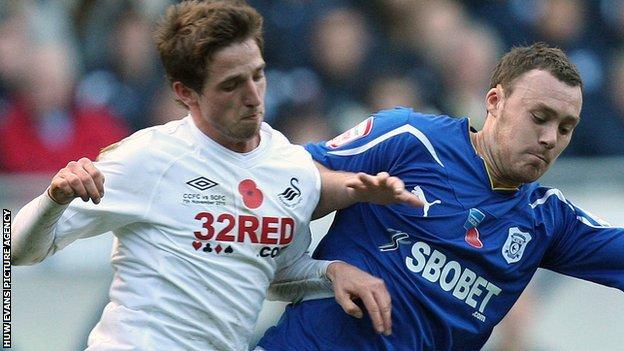 Cardiff City and Swansea City could be given the chance to qualify for Europe next season through the Welsh Cup.
Europe's governing body, Uefa, is considering a request from the Football Association of Wales to allow exiled clubs to represent Wales in European competitions.
But to do so, the clubs are likely to be forced to withdraw from the FA Cup and Football League Cup.
FAW chief Jonathan Ford: "There's going to have to be some compromise."
Since 1995, only clubs from the Welsh league system have been eligible to represent Wales in Europe.
Welsh clubs playing in the English league pyramid - Cardiff City, Swansea City, Wrexham, Newport County, Colwyn Bay and Merthyr Tydfil - were barred by the FAW from entering the Welsh Cup 17 years ago after pressure from Uefa.
But the FAW invited the six Welsh clubs playing in the England to participate in this season's Welsh Cup.
Blue Square Bet Premier sides Newport and Wrexham along with Merthyr Town (formerly Merthyr Tydfil) of the Western Football League accepted the FAW's invitation.
Swansea City, Cardiff City and Blue Square Bet North side Colwyn Bay chose not to enter.
Before the ban came into force in 1995, Cardiff, Swansea, Wrexham, Newport and Merthyr Tydfil all represented Wales in the old European Cup Winners' Cup through the Welsh Cup.
Those European ties created some of the most memorable matches in Welsh club football history.
FAW chief executive Ford is keen to see the exiled clubs return to the Welsh Cup but it is the issue of European qualification that has needed clarification.
Ford hopes a definite decision will be made soon after Uefa's executive committee meets in Istanbul on 20 and 21 March.
Previous attempts by the FAW have failed, with Uefa stating teams could only take part in Europe through the competitions of one national association.
"I've had several meeting with Uefa on this," added Ford. "We have been working very hard with Uefa to find solutions here.
"It's something we've been debating for quite a while and something's that's going to their executive committee meeting in a couple of weeks from now.
"Last year we invited the exiles back in but of course their route into Europe was always going to be complicated.
"Uefa rulings state that you can't participate in two competitions in two different countries and a successful route in one or the other through to Europe.
"If the decision goes through it will mean those clubs that are in exile at the moment that play in the Welsh Cup, should they choose, ultimately would have a guaranteed route in to Europe.
"[It would be] a fantastic opportunity for Newport, Colwyn Bay even Swansea and Cardiff. Let's hope they may play in the Welsh Cup soon as well.
"Ultimately they would have choices to make. I don't think they would be allowed to play in both competitions. I think they may have to make a decision.
"But if they came back into the Welsh Cup they would have a guaranteed place should they win the competition."
Meanwhile, Ford revealed that had Cardiff won the Carling Cup they would have been eligible to compete in next season's Europa Cup as the English league's representatives.